For this Throwback Thursday article, we are going to go all the way back to May 7, 2014.
On that day, FoodTruckr published some very valuable information that revolves around insurance for your food truck business. Trust us, you do not want to leave home without this information (or insurance).
Make sure to check out the entire article, but first … we provided a preview from said article, and the link, below.
Check it out!
Throwback Thursday: Get Insurance For Your Food Truck
Sign up to receive the FoodTruckr Newsletter and we'll throw in our free guide: 6 Free Social Media Tools to Get People Talking About Your Food Truck.
How to Start a Food Truck 16: Get Insurance
Preview:
Alright, FoodTruckrs—over the last four months, you've done a lot of prep work and research to figure out whether or not a food truck is right for you. You've got your business plan, you've built an emergency fund, and you've even learned how to buy a food truck! Now, you're ready to move on to Unit 5: The Next Steps.

During the month of May, we'll be moving on to all the nitty-gritty lessons you need to complete to get your truck up and running. We'll cover everything from truck maintenance to the licenses you need to establish your business as a legal entity. The next few lessons will be pretty heavy on information with a dash of legalese, so grab a to-go dish from your favorite local FoodTruckr before digging in!

First up on this month's menu? Our guide to buying insurance for your food truck. We know that your food truck dream is a lot of fun and is likely based in your passion for cooking or a particular type of cuisine—but at the end of the day, your food truck is a business above all else. And as a serious business with a serious business owner who's aiming for success, it's essential to make sure that your truck is protected from anything and everything that rolls its way.
Looking for Food Trucks For Sale? Check out this link for more details!
More great information from this article before we give you the link:
3. Insurance for Your Employees

Finally, you also need to insure your employees. If your food truck has any employees, you need to have workers' compensation insurance.

Workers' compensation insurance typically covers an employee's medical bills and lost pay if he or she suffers an injury on the job. In some states, workers' compensation insurance could even cover "volunteer" employees, such as a family member who offers to help out when you're working at a big festival or a friend who runs a few truck-related errands for you during an especially busy week. Most states require businesses to carry at least some workers' compensation insurance, so be sure to find out what kind of coverage you need to have.

Though you might think that work-related injuries are limited to dangerous jobs like construction and mining, working on a food truck can actually be pretty risky. Your employees are constantly working around hot stoves and scalding fryers, dealing with knives and sharp objects, and rushing around in slippery conditions.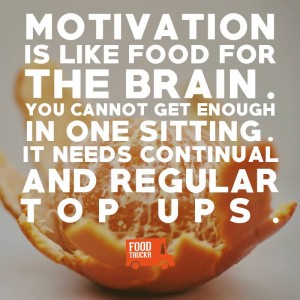 Looking to take your food truck business to the next level? If so, then The Food Truck Growth Kit has your name written all over it!
Food truck insurance is a big deal, FoodTruckrs, so we encourage you to click on the link above so you can learn all about food truck insurance. We do not want you to miss anything in that department.
As you can see, and have likely experienced on the job, being a food truck owner is tough. There is so much you have to worry about, after all. Cooking food and serving customers is just the beginning. However, the key is getting everything set up in the very beginning in hopes of getting your well-oiled machine, if you will, running and on the right track. Once you do that, then you really can focus in on your food and serving customers — well, for the most part, because you are still running a business, and you still need to be a manager and leader.
Nonetheless, we hope you are on track of reaching your goals for the year, even though it is only July and you still have plenty of time left to hit all of your goals for 2017.
Looking to build a new custom food truck? Check out this link for more details!
To dig your teeth into what FoodTruckr has to offer, make sure to like us on Facebook and follow us on Twitter, and also make sure to check out more content that we bring to the table.