If you can believe it, it's already November, which, of course, means December is right around the corner, and you know what that means…
It means a couple of different things: (1) It means the holiday season is rearing its head (for some places, the holiday season might have already started from a commercial standpoint), and that might be a blessing for FoodTruckrs who stay open during this time of the year for the simple fact that all of the shoppers need to eat. (2) There is only so much time left to reach your yearly goals, so now is the time to really put your foot on the gas pedal.
For the purposes of this article, we are going to focus in on the No. 2 point from above — getting serious about your yearly food truck goals now.
Sign up to receive the FoodTruckr Newsletter and we'll throw in our free guide: 6 Free Social Media Tools to Get People Talking About Your Food Truck.
After all, the year is almost over, and for some owners, the holiday season gets very, very busy, which means brainstorming new plans late in the year is basically not feasible. Therefore, come up with your food truck plans for the holiday season now.
If you are well on your way to reaching your yearly goals, or you have already accomplished that feat, then just keep doing what you have been doing. If you haven't met your goals yet, or if you are behind, then we encourage you to not get discouraged, because there are still a couple months left in the year, and you are just one catering gig away from reaching your goals, for you never know who is going to ask for a catering gig, what said catering gig is going to lead to next and how much you stand to make at this catering gig in question — you know, if you incorporate catering gigs.
Looking for Food Trucks For Sale? Check out this link for more details!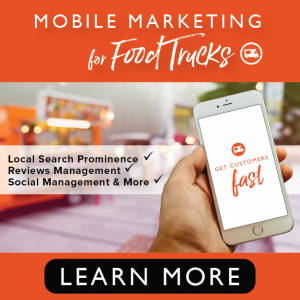 The biggest thing: People tend to do most of their reflecting around the end of the year … and that is too late to make a difference on the year that is still here. For example, so many people do most of their reflecting around New Year's Eve, and it's only natural. Unfortunately, so many people who follow that practice … well, they just throw in the towel on the current year (in this case, 2017). They start devising plans for the new year (in this case, 2018).
Now, you can never start planning too early, but you have to keep your foot on the gas pedal all year long, especially on the days you are open. That's how you become the best food truck owner you can possibly be.
We want you to start planning for 2018 as soon as possible, but we also want you to start the reflecting process now. Why? Well, because reflection leads to people looking at what they have done right and wrong, and if you can correct some of those things right now, then you should, especially if you still have goals that have yet to be met.
Looking to take your food truck business to the next level? If so, then The Food Truck Growth Kit has your name written all over it!
Don't throw in the towel now. Stick to what is working, and fix what isn't working. Start your reflecting process now in hopes of reaching all of your goals for 2017.
There is still plenty of time to make a difference, especially for the owners who stay open year-round and/or during the holiday season.
The finish line might be nearing, but the race isn't over yet, which is why it's time to get really serious about your yearly food truck goals.
Good luck achieving all of your goals for 2017, food truck owners — we know you can do it!
Looking for ways to spice up your food truck days? Look no further than the article below!
5 Simple Ways To Spice Up Your Days At Your Food Truck
5.) Play Music: Music alone can turn a bad mood into a good one, and it can surely change the mood at your food truck in a big way, which will not only benefit you and your employees but your customers as well. Playing upbeat music alone could turn your food truck environment into a happy/fun one, and that is really good for business. If nothing else, music can bring joy to your day — and what's not to love about that?
If you liked this article, then we encourage you to share your feedback, advice, questions and/or stories below!
Looking to build a new custom food truck? Check out this link for more details!
To dig your teeth into what FoodTruckr has to offer, make sure to like us on Facebook and follow us on Twitter, and also make sure to check out more content that we bring to the table.