Are you new to the food truck industry?
If so, then you likely have a million different things racing through your mind, such as locations, permits, your food, customers, social media, employees, inventory, etc.
However, on this fine Throwback Thursday, we decided to help you out in a big way by going back to an article that specializes in stock supplies, and you can find it below!
As is typically the case with these Throwback Thursday articles, we will be providing a preview and link to the article that is being highlighted.
Throwback Thursday: Order And Stock Supplies For Food Trucks
Sign up to receive the FoodTruckr Newsletter and we'll throw in our free guide: 6 Free Social Media Tools to Get People Talking About Your Food Truck.
There are just six lessons left in the "How to Start a Food Truck" series, which means that you're almost ready to open your very own food truck!

In last week's post, we helped you get involved in the food truck community and build relationships with other FoodTruckrs. Now, we're moving on to a lesson that's a little more hands-on and action-oriented to get you ready to hit the road on opening day.

Since we've already covered ingredients and equipment, we'll be spending today's lesson talking about some of the additional supplies you'll need on board. These essentials fall into three main categories: 1.) cooking tools, 2.) dishes and utensils, and 3.) cleaning products. We'll cover what you need, how to get it, and where to keep your supplies in this brand new lesson. Ready to get started? Order up!
Looking for Food Trucks For Sale? Check out this link for more details!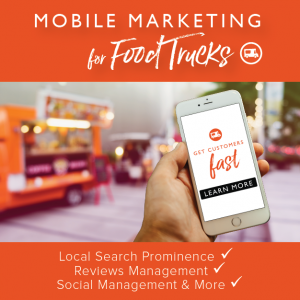 This article is flooding with important information when it comes to your food truck supplies, so before we let you go, we wanted to give you one more sneak peek.
2. Create a Budget

Once you have an idea of how much storage space you'll have, you can start budgeting and figuring out how much you can spend on each category of supplies. The key here is to make sure your truck is stocked while also taking advantage of items that are cheaper to buy in bulk. If there are any items or supplies that might take awhile to come in (such as specially printed to-go boxes or cups with your truck's logo), you'll need to make sure you always have plenty of backstock on hand—and you'll also need to be diligent about reordering well in advance of running out.

3. Look for Deals

We covered some shopping tips and ways to get great deals in our lesson on sourcing ingredients, and the same principles apply to your food truck's supplies. In general, bulk stores and warehouses will offer better deals on paper products and cleaning supplies than your regular local grocery store. Of course, you should also check out wholesale restaurant suppliers, online supply depots, and even places like Amazon for low prices on everyday products. Your local commissary may also have a wide selection of supplies from cooking equipment to cleaning products available.

4. Start Shopping

After researching prices and finding the best places to stock up, you can start shopping! Be sure to order all of your supplies well before your opening day—shipments can easily get delayed and a distributor may run out of a particular product that you need without enough time for you to order a replacement. You should never leave your food truck's success in someone else's hands, so it's important to make sure there's as little room for error as possible.
To read the entire article, make sure to check out this link.
Looking to take your food truck business to the next level? If so, then The Food Truck Growth Kit has your name written all over it!
Without supplies, you wouldn't be able to run a food truck business — it's really that simple. So make sure to dive into the article above to get some tips when it comes to the supplies department. Not only does it cover the ordering topic but it covers the stock department as well.
RELATED: Chicago Food Trucks That Foodies Need To Try Immediately
Good luck making all of your dreams come true in this wonderful industry, FoodTruckrs, and have a great weekend!
Are you currently doing any kind of email marketing or social media marketing? If so, then you should also be doing Facebook Messenger Marketing! Click here to find out more.
If you liked this article, then we encourage you to share your feedback, advice, questions and/or stories below!
Looking to build a new custom food truck? Check out this link for more details!
To dig your teeth into what FoodTruckr has to offer, make sure to like us on Facebook and follow us on Twitter, and also make sure to check out more content that we bring to the table.