Editor's Note: Today we're excited to present a post from Jeremy Adams. Jeremy is the President/CEO of Prestige Food Trucks, which is the world's leading custom food truck manufacturer. In his current role as President/CEO, Jeremy manages dozens of employees, interacts with clients, and maintains a healthy relationship with all of his business partners. Since Prestige, Jeremy has launched many other successful companies.
When it comes to Fridays, FoodTruckr loves to dish out as much advice as possible to food truck owners, which is why FoodTruckr celebrates Flashback Friday.
For the purposes of this week's Flashback Friday, let's go back in time to some rather informative articles when it comes to business advice.
Check out the preview of each article below, and make sure to click on every link as well to see all of the business advice that these articles have to offer.
Flashback Friday: A Look Back At Invaluable Business Advice At FoodTruckr
Sign up to receive the FoodTruckr Newsletter and we'll throw in our free guide: 6 Free Social Media Tools to Get People Talking About Your Food Truck.
During your food truck journey, you are going to have employees who just view their job as a job, and you are also going to have employees who want to run their own kitchens in the future. No matter what the case, you are running the show, and if you want to make your business a well-oiled machine, and teach your employees along the way, then you are going to have to actually critique their work.

A good food truck owner isn't only a mastermind in the kitchen and business savvy. No, a good food truck owner is also a good boss, and everyone loves working for a good boss. You will achieve this feat by actually showing your employees what they are doing right and wrong, and everyone will benefit in the process.
2. Believe in Yourself

A self-proclaimed "possibilitarian," Kelly Rae Roberts makes art that emphasizes honesty, dreams, courage, love, and faith. Kelly Rae is no stranger to possibility and opportunity—after spending years as a social worker, she started painting at age 30. Through art, she found a new way of looking at the world and experiencing life.

In just a few short years, Kelly Rae's art and her blog turned into a successful online shop, a book deal, magazine features, and a multi-million dollar retail venture. She's also created a series of e-books and an online course designed to help creative entrepreneurs awaken their own inner possibilitiarians.
Looking for Food Trucks For Sale? Check out this link for more details!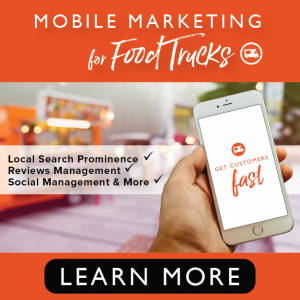 We firmly believe that every FoodTruckr needs a business plan, so we also created a free worksheet to accompany our original post. Though that worksheet was previously only available to members of our email list, we're reprinting it here today so that every aspiring food truck owner can take advantage of this valuable information. Whether you've just started learning how to start a food truck or you're already a pro with an established fleet of trucks, a business plan is an essential part of long-term success—and that's why this is one of the most important lessons in the entire "How to Start a Food Truck" series.
About to join the food truck industry? If so, then make sure to check out the How to Start a Food Truck: The Definitive Guide.
As you've undoubtedly learned from your early days on the road, running a food truck is hard work and requires you to maintain a pretty hectic schedule. Between traveling to different locations, navigating your city's local food truck laws, and doing all you can to keep your customers happy, there's not much time left in the average day.

Fortunately, FoodTruckr is here to help some of your most time-consuming tasks run a little smoother and to find new ways to increase your efficiency. We've talked about some of our favorite products for business owners before, but in today's post, we've got a whole suite of apps designed to simplify your life as a food truck owner. They're organized into categories below. Let's check out what's on the menu!
If you liked this article, then we encourage you to share your feedback, advice, questions and/or stories below!
Looking to build a new custom food truck? Check out this link for more details!
To dig your teeth into what FoodTruckr has to offer, make sure to like us on Facebook and follow us on Twitter, and also make sure to check out more content that we bring to the table.