While there wasn't necessarily an article written on Jan. 25, 2017 here at FoodTruckr, an article was published on Jan. 24, 2017 … and another on Jan. 26, 2017.
So, in the spirit of it being Throwback Thursday, let's take a trip down memory lane … to the two dates mentioned above.
Here are the titles to the articles:
7-Step Plan For How To Start A Mobile Food Truck Business
3 Things A Food Truck Entrepreneur Should Be Doing Now In Hopes Of Conquering Spring
Whether you are planning on becoming a food truck owner in the near future, or are just looking to conquer this industry this year, our hope is that the two articles below can help you out along the way. No matter what your journey consists of, you can make all of your goals and dreams come true. You just have to come up with a great plan, be adaptable and also be willing to put in the work.
And now, make sure to check out the previews below before diving into the entire articles.
Throwback Thursday: A Look Back At Jan. 25, 2017 At FoodTruckr
Sign up to receive the FoodTruckr Newsletter and we'll throw in our free guide: 6 Free Social Media Tools to Get People Talking About Your Food Truck.
Preview:
Just imagine that you can earn money by going where the people go and making them happy. By what? By food, of course! Fairs, outdoor parties and celebrations, and just busy spots in general tend to be accompanied by mobile food carts. As opposed to buying a restaurant, it is cheaper and more convenient.

The idea of starting a mobile food business attained its popularity among entrepreneurs, as it is cheaper than opening a restaurant. Why do people love food trucks? They create a special atmosphere and sell delicious food/drinks at affordable prices. Swarms of people who want to try something delicious on the go are your potential customers, as well as lovers of taking photos of unusual things.

Starting a food truck? Check out the following steps of your future business plan. Before expanding your own culinary ideas and creating a community, it is better to use the previous experience. Here are the basic SEVEN steps needed to launch a winning food truck business!
Looking for Food Trucks For Sale? Check out this link for more details!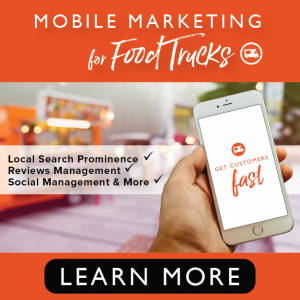 Sneak Peek:
Start Prepping Those Menus

Maybe you plan on going with the same menu(s) that you used last year. Perhaps you want to start from scratch and create a new menu altogether.

Whether the case, now is the time to prepare that bad boy. Just remember, your menu needs to be delicious and informative at the same time. In other words, you need to describe your products (your food) in a descriptive/informative manner so a ton of questions don't remain, but you also need to make each menu item sound like the best food of all time. It's an art, really.

If you want to get creative by trying some new menu items or put your own twist on a tending food item, then great — prepare now!
Looking to take your food truck business to the next level? If so, then The Food Truck Growth Kit has your name written all over it!
If you are thinking about joining the food truck industry, then the first article is definitely for you as it will map out a process to get you into the mobile kitchen industry.
In terms of the second article, it will help you prepare for spring, a time that will be here in the blink of an eye. It might be the slow season for many food truck owners, but it's never too early to start preparing, especially if you plan on crushing your 2018 goals.
Nevertheless, we hope the articles above can help aspiring and current food truck owners alike, and we also hope you achieve your goals and dreams in 2018, no matter how big or small they might be.
Good luck on this fine Throwback Thursday, FoodTruckrs, and every day after that!
Want to learn how to build a subscriber list for your food truck business? One of our managing partners here at FoodTruckr has put together an AMAZING FREE GUIDE that will teach you everything you need to know about getting started with Messenger Marketing! Click here to get your free guide.
If you liked this article, then we encourage you to share your feedback, advice, questions and/or stories below!
To dig your teeth into what FoodTruckr has to offer, make sure to like us on Facebook and follow us on Twitter, and also make sure to check out more content that we bring to the table.