In the spirit of it being Throwback Thursday tomorrow (Jan. 11), let's go back in time to May 26, 2015.
On that day, a growth kit was released that changed the game, and it is known as The Food Truck Growth Kit.
If you have yet to get your hands on this invaluable growth kit, and you are also a food truck business owner, then you need to do so ASAP, and you can purchase yours by following this link.
And now, let's get back to the Throwback Thursday action by checking out a preview of the article in question.
Check out the preview below, and then click on the link so you can read the entire thing.
Throwback Thursday: A Look Back At When The Food Truck Growth Kit Arrived
Sign up to receive the FoodTruckr Newsletter and we'll throw in our free guide: 6 Free Social Media Tools to Get People Talking About Your Food Truck.
Preview:
Today we're so excited to share some big news with you…

That's right, FoodTruckrs—The Food Truck Growth Kit is finally here!

This incredible new resource is our biggest release yet, and we couldn't be prouder of all the information that's packed inside. There's a ton of really cool stuff included, so we decided the best way to share all the awesomeness with you would be by answering some commonly asked questions. Check 'em out!
Looking for Food Trucks For Sale? Check out this link for more details!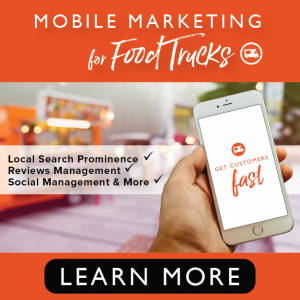 More preview action:
5. You've almost convinced me, but I'm a bargain hunter and I want to know I'm getting the best deal. Can you give me a discount?

Well… since you twisted our arms! The first 50 people who pick up their copies of The Food Truck Growth Kit will receive an exclusive 10% discount on hardware from our friends at Shopify POS! If you're ready to invest in one of the industry's top POS systems, then you'd better act fast—this special offer won't last long.

6. What if I don't have a food truck just yet, but I want to learn more about running a food truck business?

If you're still trying to get your food truck out on the road, we recommend starting out by reading our first book, How to Start a Food Truck: The Definitive Guide. This awesome program takes you from figuring out whether a food truck or a brick and mortar location is right for you all the way to getting ready for your first day out on the streets. It's packed full of tasty tips on everything from figuring out which licenses you need to getting financing for your truck to choosing a commissary.

You May Also Like…

  

How to Run a Food Truck 20: Improve Your Social Media Outreach

Of course, once you've finished reading How to Start a Food Truck: The Definitive Guide, there's also a ton for you to learn inside The Food Truck Growth Kit. You'll learn all about new challenges that real food truck owners face once they're out on the streets, such as maintaining a healthy work/life balance, motivating their team members, and what to do when they don't have enough customers. If you're already well into your plans of starting a food truck and you want to make sure you're as well equipped as can be before hitting the streets, The Food Truck Growth Kit is definitely worth a read.

7. I'm having trouble with the checkout page. Who can help me?

We can! Send us an email at [email protected] and one of our friendly team members will get back to you as soon as possible. (And thanks for being so eager to buy The Food Truck Growth Kit… we think you're going to love it!)
Check out the entire article here.
About to join the food truck industry? If so, then make sure to check out the How to Start a Food Truck: The Definitive Guide.
The Food Truck Growth Kit has been helping FoodTruckrs take their businesses to the next level since the day it came out, and if you're looking to take your business to the next level in a big way, then you need to get your hands on one.
Nonetheless, we hope your 2018 is off to a strong start!
Want to learn how to build a subscriber list for your food truck business? One of our managing partners here at FoodTruckr has put together an AMAZING FREE GUIDE that will teach you everything you need to know about getting started with Messenger Marketing! Click here to get your free guide.
If you liked this article, then we encourage you to share your feedback, advice, questions and/or stories below!
Looking to build a new custom food truck? Check out this link for more details!
To dig your teeth into what FoodTruckr has to offer, make sure to like us on Facebook and follow us on Twitter, and also make sure to check out more content that we bring to the table.