Do you stay up to date on all of the latest trends when it comes to the food truck industry, FoodTruckrs?
Not everyone does, but for the purposes of this Throwback Thursday article, we are going to go back in time to a piece that highlights food industry trends.
Before checking out the article by clicking on the link provided below, we will be dishing out a preview for the article in question.
Check it out below!
Throwback Thursday: Keep Up With Food Industry Trends
Sign up to receive the FoodTruckr Newsletter and we'll throw in our free guide: 6 Free Social Media Tools to Get People Talking About Your Food Truck.
How to Run a Food Truck 14: Keep Up with Industry Trends
Preview:
FoodTruckrs, those of you who have been following along with the "How to Run a Food Truck" series have done some amazing work over the past several months. You've done everything from getting your food truck team up and running to learning how to deliver excellent customer service to overcoming some major roadblocks on your journey to developing a successful food truck business. Way to go!

Now, the first half of this series focused on some important things you needed to do to get your business rolling, but now it's time to kick things up a notch. Over the next few months, we'll be talking about ways you can run your business better—starting with Unit 4, "Become a Better Business Owner." This section of lessons is dedicated especially to helping you improve your skills as a business owner, manager, and boss, and we think it's an important read for every FoodTruckr.

Today we want to kick this section of exciting lessons off with a topic that's near and dear to our hearts—the latest happenings and trends in the food truck industry. There are some truly awesome FoodTruckrs doing incredible things out there, and keeping up with their progress isn't just interesting and entertaining—it can also help you to better your own truck! Let's begin by examining some of the most effective ways to use industry trends to benefit your business, and then we'll look at some of the best places to stay abreast of new happenings.
Looking for Food Trucks For Sale? Check out this link for more details!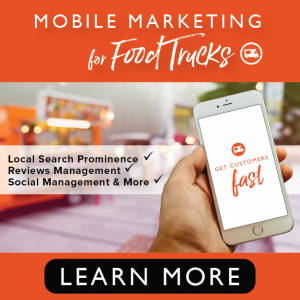 Last sneak peek of the article:
4. Anticipate What Customers Really Want

By its very nature, the food truck industry is full of trends—everything from the types of cuisine people are serving to the venues they're serving at to the simple fact that they're even serving from a truck is all influenced by popular culture and by the rise of food truck giants like Kogi and The Grilled Cheese Truck. So it only makes sense that in addition to getting creative, trying new things, and benefiting from the experiences of others, that you can also begin to predict what your customers really want by keeping an eye on the food truck industry's current trends.

This article on the recent Food Truck Frenzy at the Humana Challenge in La Quinta, CA, illustrates a few of the key things that today's food truck fan really wants: quality, creativity, variety, and convenience. People who were interviewed in the article use phrases like "[a food truck] means really interesting, cool food," "you have better choices," "for the person who wants to move around quickly," "something for everyone," and even "everything always tastes better off a food truck" to describe their experiences and thoughts on the festival.

Watching to see what fans are saying about their favorite food trucks—and what food truck owners say about what's most popular with their customers—is one of the best ways to predict what your own customers will most enjoy. Many food truck owners are in this business because they're passionate about their creations and love practicing their craft, but at the end of the day, your business is supported by your fans. Learn how to make them happy and you'll be the proud owner of a successful food truck business for many years to come.
You can read the entire article here.
Looking to take your food truck business to the next level? If so, then The Food Truck Growth Kit has your name written all over it!
If you liked this article, then we encourage you to share your feedback, advice, questions and/or stories below!
Looking to build a new custom food truck? Check out this link for more details!
To dig your teeth into what FoodTruckr has to offer, make sure to like us on Facebook and follow us on Twitter, and also make sure to check out more content that we bring to the table.