Welcome to FoodTruckr! I'm Pat Flynn, and I'm so grateful that you're here.
You may think I started this website simply because I adore food truck cuisine. Well, that's true! I crave a buffalo chicken grilled cheese sandwich from the Urban Eats truck here in San Diego like crazy. But more importantly, I created FoodTruckr because I care so much about food truck owners.
Food truck owners are some of the hardest working, most generous people I know. Sadly, most food truck businesses break down because the love of cooking and serving amazing food is completely separate from the business side of running a food truck. To make matters worse, there is no central resource to help owners solve their business problems. Until now…
Enter FoodTruckr: Your one-stop destination for all the inspired instruction and resources you need to grow your food truck business and make your life easier.
FoodTruckr Will Help Your Truck Stand Out and Be Talked About
At FoodTruckr, we believe that food trucks are beacons of community and happiness. Fans flock to their favorite trucks to enjoy lip-smacking eats. And any food truck meal is a social gathering to be enjoyed with friends or family. We believe that the love and support of this tribe is what determines the success of any food truck.
Our mission is to empower you as a strong tribal leader of your fan base. We'll teach you online marketing strategies, offline community organizing tips, smart branding moves, and more that will make your food truck memorable and worth talking about.
We'll also bring you insider stories with real food truck owners as well as research on important food truck subjects like local health codes and city regulations. All our reports will be backed by proven examples and credible sources. Like your food, our content will be the best!
Ultimately, a food truck with an active tribe is a food truck with a thriving business. So, if you've ever asked yourself "Where do I drive the truck tomorrow?" or "How do I use social media to get more customers?" or just simply "What do I do next?", then you've come to the right place!
To join our community of food truck owners receiving the best business advice around, subscribe to our email newsletter. It's free and delicious!
Join the best collection of Food Truck owners online
Meet Pat Flynn: Entrepreneur and Food Truck Fanboy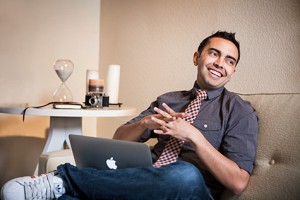 I'm a happy family guy who happens to be a successful entrepreneur. I build online businesses using strategies and skills that foster highly-engaged communities. It's demanding work but I love it. I do it for the fans. That's why when I meet a food truck owner, I see myself.
I understand the thrill and excitement of starting a business and being your own boss. I know the satisfaction that comes from creating a product and wanting to get it in the hands (or mouths) of as many people as possible, not just to make money but to serve customers and make them happy. And I experience the hardships that come along with running a business, from always feeling like more can be done to never turning it off in your brain.
And like many food truck owners, my entrepreneurial journey began when I lost my job.
I lost my job in 2008 when the U.S. economy crumbled. The news was devastating. I was sad, confused, and scared about what would happen next. Thankfully, being let go turned out to be a blessing. I bet on myself and became an entrepreneur. The success I've enjoyed since has allowed me to build the lifestyle of my dreams. And here's the thing: food truck owners can achieve the same level of success using similar business strategies and tactics.
That's why I created FoodTruckr: I want to help food truck owners like you build a thriving business that brings you endless joy and supports your ideal lifestyle. To start learning the business tips you need to succeed, subscribe below to our free email newsletter.
Join the Newsletter