These are our favorite tools for building and growing a business that we use and love. Check back often for updates!
Please note: some of the links on this page may earn affiliate income for FoodTruckr.com. You can read our full disclosure here.
Tools To Build Your Audience
To build your audience of super-fans and catering clientele, you'll want to build up the following resources:
A strong website
An active email list
Active social media accounts
We offer a lot advice on our blog about what content is appropriate for each resource; here are the tools you'll need to establish these resources.
Websites
A strong website is key for helping you to grow your food truck business, especially the catering side.
Website Hosting
When you own your own domain (like foodtruckr.com), you need a site host to store the files.
Bluehost website hosting: Bluehost is affordable and has fantastic customer service
WordPress Websites
WordPress is the #1 website publishing platform. There are lots of free and paid templates available, and you have endless freedom to tweak your website recipe.
Thesis: Drag-and-drop WordPress themes
WooThemes: Stylish premium (and a few free) templates
WordPress Alternatives
Here are some other DIY website provider solutions, if WordPress isn't right for you.
SquareSpace: Mobile-optimized websites and hosting in one
Web Developers
Don't get overwhelmed by the process of building a website! Help is available, and it doesn't have to break the bank.
Elance: An online marketplace to connect you with web developers and administrative professionals
oDesk: Similar to Elance, another outsource marketplace for web developers and administrative professionals
Virtual Staff Finder: Our friend Chris Ducker can help you find a web developer or virtual assistant within your budget
Email Mailing List Tools
Email lists are a great tool for letting your favorite customers know about exciting new developments in your business.
Providers
AWeber: The broadcast email service provider that we use at FoodTruckr
MailChimp: Another favorite broadcast email service provider
OptinSkin: This tool helps you easily embed email opt-in forms onto your website.
Social Media Tools
For more about using these social media tools, subscribe to our mailing list and receive a copy of 6 Free Social Tools to Get People Talking About Your Food Truck.
Scheduling Facebook, Twitter, and Other Social Posts
Scheduling posts in advance is a great way to keep your social media account active throughout the day, without needing to interrupt your food service.
Other Social Tools
These tools help you tailor your social content to better serve your audience. (Download the guide for more information.)
Tools to Help Run Your Business
Staying on top of a small business is hard—especially when you are away from your office all day. These are a few of our favorite tools for staying organized.
Point of Sale Systems
Document Management
Keep your inventory lists, schedules, and catering checklists hosted in the cloud—that way you can access them from the road.
File Syncing Tools
Dropbox: Sync files between all your computers, your mobile devices, and share with colleagues
Box: A Dropbox alternative
Online Documents
Google Drive: Create and store documents, including spreadsheets, word processing, and presentations completely online
Drive Template Gallery: Free templates, including balance sheets, time cards, and inventory lists
Mobile Payment Services
More and more patrons are moving away from cash. Here are solutions for accepting credit payments.
On the Go
In addition to these solutions, check with your individual commercial banker to see if your bank offers any solutions.
Custom Food Truck Builders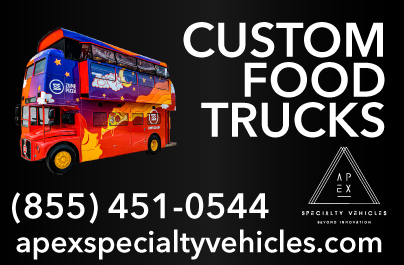 APEX Specialty Vehicles is the premier specialty vehicle manufacturer in the United States. Founded in 2006, APEX Specialty Vehicles is honored to have been a part of over 1000+ projects to date, ranging from food and beverage to government specialty vehicles and everything in between. Contact us today to get your project started!
2. Prestige Food Trucks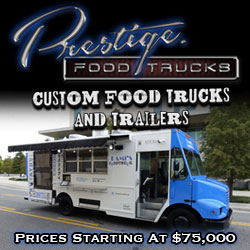 There are a lot of options for where to buy a custom food truck.  Prestige Food Trucks has a proven track record and up to date knowledge of the industry. We've spoken with the Prestige team before and we couldn't be more confident that they'd take great care of you to get your dream truck or trailer built for your needs.
3. Custom Concessions USA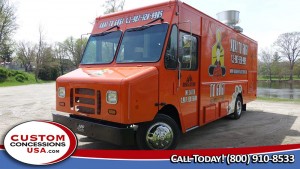 An additional option to buy a custom food truck is Prestige Food Trucks's sister company, Custom Concessions USA, which is a concession trailer builder, food truck builder / food truck manufacturer of choice because of their proven track record and up to date knowledge of the industry.
Used Food Truck Marketplaces
Roaming Hunger has one of the largest used food truck and equipment marketplaces in the nation. You can browse hundreds of food and beverage vehicles all over the United States. Inquiries put you in touch with with the Roaming Hunger team, who will help you navigate the buying process so you don't waste time.
Foodtruckempire.com has a wide selection of used vehicles all over the US. Check them out to find equipment on their marketplace.