Editor's Note: Today we're excited to present a guest post from Adrian Cordiner. Adrian is a writer for nisbets.com.au. He is passionate about food, business, marketing, and technology, and never gets tired of sharing new discoveries. When not at a desk you'll find him running through the parks of sunny Sydney.
Marketing — it's important for all businesses and restaurants, but particularly when you're on the move without a "home," the success of your food truck can depend on it.
Most food truck owners have probably given marketing a bit of thought as it's often considered one of the "fun" bits of business, and although a lot of younger generations find building an online presence comes naturally, the amount of time and effort it takes to create successful marketing campaigns should not be underestimated.
If you're a new truck owner, it's good to realize that marketing actually begins right at the start, before you've even fried a chip, in the branding phrase. The most important step is defining yourself — try thinking of your truck as a person.
Sign up to receive the FoodTruckr Newsletter and we'll throw in our free guide: 6 Free Social Media Tools to Get People Talking About Your Food Truck.
What do they like to eat? What kind of events do they go to? Who are their friends?
The answer to these questions will determine your product, your locations and your customers. From here, you'll have started to create a solid identity in your mind and can move onto creating an appearance that matches. This includes your logo, styling, truck design and website. Teaming up with a designer initially might seem expensive, but it will help you in keeping styling consistent across all platforms.
For both new and existing trucks, having and maintaining a website is a top priority. Think of it as the home for the rest of your online presence. This means that your social media accounts and online profiles should all link back to your website, and in turn your website should make it easy for visitors to find all social accounts and other information. Feature your URL prominently on the side and back of your truck. People will no doubt be curious as they see your groovy van driving past!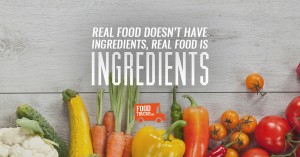 The good thing about modern marketing is that with some organization and know-how, many campaign ideas can be run without huge costs. When you've invested into your truck, kitchen equipment, insurance and maintenance costs, this is great news!
RELATED: Now Is The Perfect Time For Food Truck Owners To Make New Goals For 2017. In hopes of crushing your goals next year, now is the perfect time for food truck owners to make new goals.
Experiment with different ideas to see what works for you. Weekly specials, social media competitions and customer review incentives will help maintain momentum and interest. Get involved with your customers and immerse yourself in the local food trucking scene, and even consider joining up with other complimentary food trucks and catering events together as a team.
There are no limits on the opportunities that great marketing can provide. Passion and enthusiasm will always draw new customers in, so just think of it as getting yourself out there and sharing your amazing food and drinks with the world!
To help you on your food trucking journey, the team at nisbets.com.au have created the infographic below, "Food Truck Marketing 101." Let us know what you think!

To dig your teeth into what FoodTruckr has to offer, make sure to like us on Facebook and follow us on Twitter, and also make sure to check out more content that we bring to the table.
There is no ads to display, Please add some