This article was written by marketing expert Heather Cox. See her info at the end of the bottom.
Whether you are starting a new food truck or are a seasoned pro, keeping your marketing approach up-to-date is the key to longevity. In 2021  – in the midst of a shifting marketplace – getting creative about your approach can help your food truck thrive.
Many major changes we saw in 2020 are becoming a permanent part of our world. Remote offices are increasingly becoming the norm, telehealth is on the rise, and online shopping is more popular than ever. In short, the world is going to stay somewhat socially distanced for the foreseeable future.
Food trucks once relied on word-of-mouth and walk-in traffic to thrive. Now, your success is about creating a presence in a virtual space. Below, we will give you some guidance on how to adapt your marketing approach and succeed in a post-pandemic market.
Provide Contactless Menus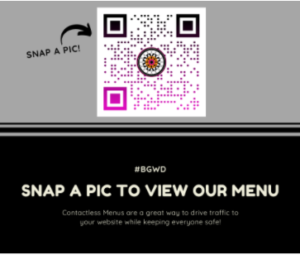 The use of QR Codes to create contactless menus for your food truck has increased due to COVID – and customers have come to appreciate the convenience of looking at menus on their personal devices. A QR code is a great way to let people know about your online menu and any other online services you may offer.
Ready to get started? Use this link to create a QR code with your logo and different styles to match your brand. Once you are done, you can also share your QR Code on your website, on your food truck and your social media platforms.
Link Your Bio On Instagram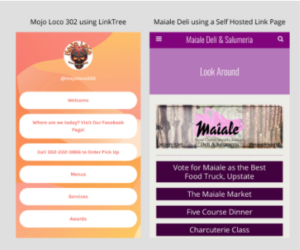 A strong social media presence is more important than ever before – and Instagram is a particularly good option for those in the food industry. A good food picture can really entice a customer.
Using services like LinkTree or SociaTap is a great way to create multiple links within your Instagram profile. It helps direct people to different parts of your website to view your menu, purchase merchandise, see your locations, and more.
Want to really step up your game? Create a "Link in Bio" page on your website. Add buttons with your multiple links to increase traffic and improve SEO while creating calls to action. It's a win-win!
Be Consistent On Social Media
A consistent brand is a recognizable brand. If you are a burger truck, you want consumers to picture your logo the second they start craving a burger for lunch. Being active on social media  – where your customers hang out in their free time – is a good way to embed your company in the minds of consumers.
Creating a consistent social media brand is a great way to let people know that your food truck is active during the spring season. Posting every day about where you are located, what specials you are featuring, and photos of your food truck food will show your friends, fans, and new customers that you are trustworthy and ready to serve! It will also let people know where and how to find you.
Run A Contest
These days, consumers are averse to traditional forms of advertising. A contest is more interactive, and customers get something in return for participating.
Running a contest is a great way to increase the visibility of your food truck and brand. Create a photography contest where the best photo of your food truck wins or create a giveaway on Instagram. Have followers tag two people to be entered to win a gift card to your truck or a free meal. This is basically a free way to get exposure and give your customers something to look forward to.
Make sure to check your local guidelines around online giveaways and contests, however. Some cities or states may have specific guidelines.
Collaborate With Your Peers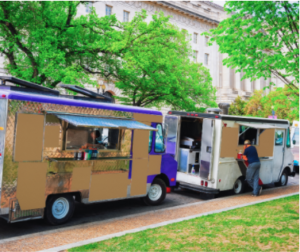 Collaborations are all the rage in 2021. While you may be tempted to think of fellow food trucks as your competitors, partnering with other brands oftentimes creates a mutually beneficial relationship for both parties.
Get together with other food truck owners for a food truck Friday in your local town. Or, talk to a local brewery and see if you can set up on the corner so patrons can get food and drinks in one place. There are plenty of creative ways to collaborate and elevate both your brands in the process.
Food Truck Marketing In 2021: The Bottom Line 
Going in 2021, marketing can feel like an uphill battle for those in the food industry — especially food truck owners. Traditional routes of reaching customers are no longer viable, but creativity and innovation can help you thrive.
Creating a sense of community in online spaces and finding creative ways to interact with customers are vital to a successful 2021 marketing campaign. The above tips and tricks should give you a rough idea of where to get started.
Have another marketing tip for other food truck owners? Drop a comment and let us know!
More about the Writer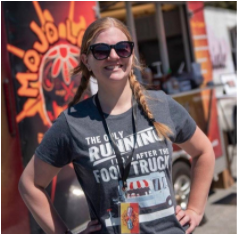 Heather Cox is the owner of BGWD and an expert in Social Media and Web Design for food trucks and restaurants. With over 14 years of restaurant industry experience, she knows how to make you look great online and get you more customers using your website and social channels.
Her favorite Food Truck food is Cheese Curds and she enjoys going to Food and Food Truck Festivals in and around Delaware! Because what else is there to do in Delaware except to eat!?
There is no ads to display, Please add some