Growing a food truck business is a real possibility for food truck owners just like you … especially if you take the three strategies that follow into account.
Above all else, as long as you are cooking great food, crushing the social media game and making quality customer service a top priority, then you should have a thriving business on your hands. Of course, sometimes that isn't enough, because ingredients like competition, location and things of that nature also come into play when it comes to a thriving business.
Nonetheless, if you are looking to grow your food truck business, then you need to make the strategies below yours!
Sign up to receive the FoodTruckr Newsletter and we'll throw in our free guide: 6 Free Social Media Tools to Get People Talking About Your Food Truck.
Growing Your Food Truck Business: 3 Strategies To Make Expansion A Real Possibility
3. Have A Strong Catering Game (Especially During The Offseason): If you want to grow your business, then the cash, of course, needs to come flying in. After all, you are going to need money to keep your current business going strong, and you are going to need money for the actual expansion, which will likely include costs like the food truck (if your expansion involves adding another food truck, that is), paying salaries, etc.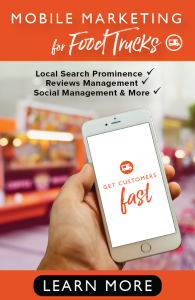 Nonetheless, catering is a great way to not only make more money in the food truck industry but it is one of the best ways to network (spoiler: you never know who you are going to meet at a catering gig).
Plus, if you live in a place in which cold weather tends to take over during the winter, meaning your truck operates on limited hours, then catering makes it possible for you to continue making consistent money.
The weather might change … but everyone still needs to eat. Not only that, but food trucks are becoming more popular when it comes to catering events.
In summary, catering can help you grow because it will lead to more money, which is essential for expansion, and catering gigs provide great networking opportunities.
Looking to take your food truck business to the next level? If so, then The Food Truck Growth Kit has your name written all over it!
2. Get Your Dream Team In Place: If you plan on expanding your business, then you are likely going to need more employees, which is why you need to have a dream team in place. Your dream team will consist of an expert in every area (for example, social media, marketing, customer service, cooking, business, etc.). If you achieve that feat, then you know you have the best person for the job, no matter what said job might be.
Plus — and this is a big one — you are going to have to count on these people to help you expand your business. Sure, you could hire more employees for your new truck, and you might have to, but at the very least, you are going to have to count on someone to run one of the trucks (or at least the daily operations), for you can't be at two places at once. If you have another great manager on staff (aka on your dream team), then you can rest assured that the daily operations will run smoothly at both of your trucks!
The stronger your dream team is, the stronger your business will be, which will make expansion that much easier.
RELATED: 3 Reasons Why Your Food Truck Business Should Hire A Social Media Expert
1. Don't Lose Passion, And Always Be Looking At The Big Picture: If you want to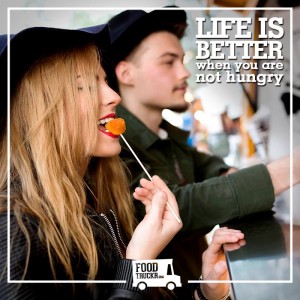 expand your business, then you can't lose passion, and you always have to be looking at the big picture. The moment you take your foot off the gas pedal, the moment your truck starts taking a hit, even if it is little jabs. If you continue to be passionate, then you will stay hungry and hustle, and surely your troops (in this case, your employees) will vibe off of that and rally around you.
If you get complacent in this industry by going through the motions, then your ship (in this case, your food truck) might not necessarily sink, but you won't gain any ground when it comes to growing. That is why you have to continue to make goals, and stick with the plan.
You might be a food truck owner, which was the original dream, but if you want to continue to move forward, then you can't lose passion, and you also have to continue to enhance your dream to bigger and better things, such as opening up another truck, a sit-down restaurant or bringing franchising into the mix.
If you liked this article, then we encourage you to share your feedback, advice, questions and/or stories below!
Looking to build a new custom food truck? Check out this link for more details!
To dig your teeth into what FoodTruckr has to offer, make sure to like us on Facebook and follow us on Twitter, and also make sure to check out more content that we bring to the table.
There is no ads to display, Please add some