Another week of Throwback Thursday is here, and for this week's edition, we want to focus on the food.
As many food truck owners likely already know, plating and presentation is very important, especially if you want to make a good first impression.
With that said, we are going to go back to Sept. 10, 2014. On that day, this article was published right here at FoodTruckr: How to Run a Food Truck 02: Practice Plating and Presentation.
Below, you will find a preview and link to the article. Enjoy!
Throwback Thursday: Practice Plating And Presentation At Your Food Truck
Sign up to receive the FoodTruckr Newsletter and we'll throw in our free guide: 6 Free Social Media Tools to Get People Talking About Your Food Truck.
In last week's "How to Run a Food Truck" lesson, we helped you establish what your new employees need to learn and went over some of the best training strategies to ramp up your team for success. This new blog series is all about teaching you everything you need to know to make your food truck as great as it can be, so today we're excited to present a very special lesson that's guaranteed to make your menu even more appetizing.

How could it be possible for your marinara-and-mozzarella-drenched meatball sub to be even more mouthwatering? The secret is all in how you plate and present the dish—and we've got the scoop on what you can do to make every meal look even more picturesque. Let's start out by taking a quick look at why presentation is so important.
Looking for Food Trucks For Sale? Check out this link for more details!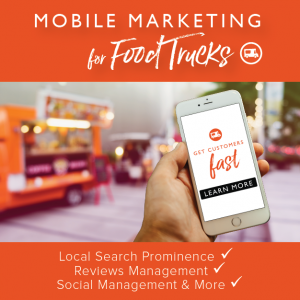 Before we let you go, we wanted to give you some more preview action:
3. Texture and Consistency

Over the months and years you've spent perfecting your recipes, you've probably given a lot of attention to the texture and consistency of your recipes—making sure that each dish is not too runny, too crunchy, or too tough. Now that you're working on presenting your meals in the best fashion, it's also important to think about how different textures and consistencies work together. Just like the color of each item on your customer's plate, variety is best when it comes to serving different textures and consistencies.

Many great chefs incorporate multiple textures and consistencies into one dish, while others opt to strike a balance through the various items they serve. Think about how your customers will eat the dish and try to introduce several variations into each meal. If you're serving a juicy, messy sandwich that's covered in dripping sauces, add a scoop of crispy French fries to the side. Similarly, creamy soups pair well with toasted sandwiches. The juxtaposition of varied textures and consistencies will definitely be noticed by hungry customers who have a craving for quality.

4. Dishes and Utensils

We've explained before that your truck's dishes and utensils are an extension of your brand—but they can also have a major effect on how your customers perceive their meals. Food that is tossed hastily into a plain white Styrofoam container maintains a pretty casual air about it, while a cardboard box printed with your food truck's logo and a clever tagline will look like you put a little more thought into your food's presentation. There is no right or wrong answer as to how you serve your food, but it is important to think about the message you're sending about your brand before you begin ordering plates, to-go boxes, and utensils.
You can read the entire article here.
Looking to take your food truck business to the next level? If so, then The Food Truck Growth Kit has your name written all over it!
There are so many things food truck owners have to worry about, and food plating and presentation should be one of them. Your food is, of course, going to taste delicious, but make sure to take the extra time to make it look presentable, delicious and then some.
Happy Throwback Thursday!
Are you currently doing any kind of email marketing or social media marketing? If so, then you should also be doing Facebook Messenger Marketing! Click here to find out more.
If you liked this article, then we encourage you to share your feedback, advice, questions and/or stories below!
Looking to build a new custom food truck? Check out this link for more details!
To dig your teeth into what FoodTruckr has to offer, make sure to like us on Facebook and follow us on Twitter, and also make sure to check out more content that we bring to the table.
There is no ads to display, Please add some