Editor's Note: Today we're excited to present a guest post from JSL Financial. JSL Financial specializes in providing hassle-free financing for small and medium sized businesses. You can find out more about JSL Financial by checking out their website.

It's a new year, which means new opportunities are right around the corner. One of the biggest opportunities could come in the form of food truck financing. After all, you want to enter the food truck industry, right?
Well, if you are thinking about entering this industry and you don't have the money to make it work, then you are in luck because food truck financing is here to help. The best part? You don't have to have perfect credit to finance the mobile kitchen of your dreams. With that said, if your credit score isn't off the charts, then you are going to need some help. Still, even if you have bad credit, and although it will be an uphill battle, you can get food truck financing.
Okay, so let's say you don't have good credit. In that scenario, you will need a cosigner who does have good credit. You might also need a decent chunk of cash for a downpayment. Good credit or not, collateral could come into play as well.
Sign up to receive the FoodTruckr Newsletter and we'll throw in our free guide: 6 Free Social Media Tools to Get People Talking About Your Food Truck.
Nonetheless, here's one thing many people probably don't take into account: The condition of the food truck could affect financing. Therefore, if you are looking into buying a piece of junk, then don't be surprised when you don't get approved for a loan.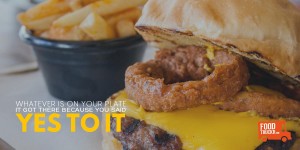 You see, lenders don't want to lend money for a mobile kitchen that is going to break down. Not to mention, with mobile kitchens, there are many things that could go wrong if you purchase an unreliable truck — you know, if you get the money for it in the first place. For example, the engine (or any part of the actual truck) could break down. The food truck equipment might not be reliable either, and that type of stuff could cost a pretty penny depending on what you purchase and what you have to have to operate your lunch truck business.
That is why looking into a nice food truck might be a good option — because it could affect financing in a positive way, and it will also be more reliable.
Nonetheless, food truck financing can help you break into the industry. Gone are the days of having to pay $50,000 out of pocket (in some cases, it's much greater than that) to enter the food truck industry. Food truck financing can help you get the money you need.
But always remember, the condition of your truck is very, very important, whether we are talking about you relying on it for business or a bank helping you out in the financing department.
RELATED: How You Know You Need More Financing For Your Food Truck Business. If you can relate to this article and happen to own your own mobile catering business, then you might need more financing.

Looking for financing to start or grow an existing food truck? JSL Financial has you covered.
To dig your teeth into what FoodTruckr has to offer, make sure to like us on Facebook and follow us on Twitter, and also make sure to check out more content that we bring to the table.
There is no ads to display, Please add some