The food truck industry is awesome — there is really no other way to put it. Why do we love the food truck industry today? Well, we will be giving you some golden reasons why we love this magical and delicious industry here shortly.
Before we get to those reasons, though, it's important to note that this otherworldly industry is paving the way for chefs. This industry is giving chefs an alternative in the food industry. A cheaper alternative, might we add. Instead of opening up a sit-down restaurant for a fortune, prospective chefs can open up a food truck business for less money. On top of that, food trucks tend to come with less overhead costs, and it is likely easier to manage since you might only be dealing with a couple of employees.
The food truck industry is awesome — it really is. Without further ado, we give you some golden reasons why we love the food truck industry today.
Sign up to receive the FoodTruckr Newsletter and we'll throw in our free guide: 6 Free Social Media Tools to Get People Talking About Your Food Truck.
Reasons Why We Love The Food Truck Industry
Because All Of The Amazing Foods
Because Food Trucks Create Communities
Because They Are Affordable Yet Taste Amazing
Because All Of The Amazing Foods
The food truck industry is filled with amazing foods. From Chicago Dogs to gourmet pizzas to fish tacos to Hawaiian food to you name it, this industry provides so much when it comes to the taste department.
The best part is the variety and the fact that you can get most of this variety in one place. After all, where there is one food truck, there are likely many food trucks, and every single one comes with its own recipes, menus and meals.
Every food truck comes with a bag of uniqueness. While there might be many pizza trucks, taco trucks and hamburger trucks out there, every single one is different in its own special way. This industry has so much variety when it comes to the food, food that happens to make our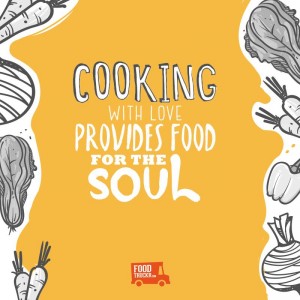 tastebuds run wild.
On top of that — and this could be a reason by itself — mobile kitchens create communities. Most food truck owners (and the employees, of course) will make you feel welcome. You might go to a food truck because of the food, but you also get an entire experience on top of that. Great food, friendly people and you feel like you are part of a community — sign us up for that any day of the week.
If you are a food truck owner, then making people happy with your food is probably a day-maker every single time.
Because Food Trucks Go Where The People Are
Instead of traveling far and wide to get to a restaurant, food trucks go where the people go, if you will. Okay, so food trucks technically don't go door to door (although catering is a big thing in this industry), they go where the most people are. Hear us out.
Food truck owners tend to set up shop at a place that is flooding with foot traffic, a place that attracts a lot of people, a place that is big for tourism and you likely get the point. You can find food trucks at business districts, at events, at festivals, at bar scenes, downtown — everywhere. Heck, you can even find lunch trucks at weddings nowadays. In fact, food truck weddings are becoming more and more popular.
Looking to build a new custom food truck? Check out this link for more details!
Here's the thing, if you plan on going downtown on a Friday night (or any night), then there's a good chance that you will find a food truck somewhere along the way. Given the fact that food truck food is flooding with deliciousness and food trucks tend to go where the people are, they are perfect for foodies. What's not to love about that?
RELATED: How You Know You Need More Financing For Your Food Truck Business. If you can relate to the information in this article, then food truck financing might be your best option.
Because They Are Affordable Yet Taste Amazing
Not only does food truck food tend to taste amazing but it is affordable as well. Does it get much better than that?
Food trucks provide amazing recipes and gourmet meals. The best part is the fact that you don't have to wait for someone to serve you — well, in a sense, that is. You order your food, the cook makes your food and then you get your food — it's that simple. With food trucks, gone are the days of having to go to a fancy restaurant to get an otherworldly meal … and having to pay an arm and a leg on top of that.
Food truck chefs take pride in their art. In this case, the art is the food. Great tasting food and affordable prices — that's why we love the food truck industry today.
There are, of course, many other reasons why we love the food truck industry. After all, this industry has so much to offer. Above all else, we love the food, the affordable prices and the fact that they seem to be everywhere nowadays.
Side note: If you are a food truck owner — and we know there are a lot of you out there — then you probably love this industry because it is allowing you to achieve your goals and dreams. It is allowing you to be the person you were meant to be, which could be a chef, business owner or both. This is a dream industry for people who want to work with food.

Looking for financing to start or grow an existing food truck? JSL Financial has you covered.
To dig your teeth into what FoodTruckr has to offer, make sure to like us on Facebook and follow us on Twitter, and also make sure to check out more content that we bring to the table.
There is no ads to display, Please add some