If you had to explain the difference between a food truck and a restaurant to your 85-year old grandmother, you'd probably start out with the most obvious difference: a food truck has wheels.
You could certainly go into a lot more detail, but Granny's probably already stopping you here with questions: "Where do food trucks go? Do they stay in the same place or go to different places each day? And how on earth do people find them?"
Granny has a great point. While the ability to move around offers some clear benefits to truck owners, an irregular location can also prove to be a challenge. At the end of the day, if fans don't know where you are, they won't have any way to visit your truck.
That's why keeping fans updated on your location is one of the most important things you can do for the success of your food truck business. Let's take a look at the benefits of updating your location frequently, discuss a few of the best ways to tell fans where you're going next, and figure out how often you should update your location.
Why Location Updates Matter
If you're used to parking in busy areas and getting a fair amount of walk-up traffic, you might not think you really need to worry about broadcasting your truck's location. But here's a little secret: Every food truck can benefit from sending out location updates. That's right—every single one. Small trucks depend on repeat customers to keep their businesses going, and location updates help those customers find them again and again. Bigger food trucks that have more resources available to them can develop cult-like followings who will trek across the city to find them and get a taste of what everyone is talking about.
Regardless of your truck's fan-base size, you have the chance to attract two types of fans each time you update your location:
Fan A: The dedicated customer who has been to your truck multiple times and is craving your spicy chicken lettuce wraps or creamy broccoli potato soup. As soon as the clock strikes 10:00 am, Fan A is already on the lookout to see where you're heading next.
Fan B: A hungry diner who is looking for a lunch suggestion. Perhaps she's been to your truck once or twice, or maybe a friend recommended you. Fan B needs somewhere to grab a quick lunch this afternoon, and that photo you just posted of a juicy bacon hamburger—along with an update saying you're only two blocks away—has her already grabbing her coat and heading toward the door.
It's up to you to capitalize on these opportunities by letting fans know you're available. Publicize your truck's location early and often and make the information easy for people to find, and you'll be rewarded with steady lunch lines every day.
How Early Should You Let People Know Where You're Going?
So you're ready to tell people where your truck is heading next—but how early (and how often) should you let them know?
The short answer: it's different for every FoodTruckr. It truly depends on your city, your fans, and your truck's own schedule. For instance, if your city is sprawled out over a wide area and you're attracting fans from as far away as the local suburbs, you should update people early enough so that they can wrap up what they're doing and make the drive to your truck with enough time left to park, review the menu, and order before you have to leave. That may mean giving people a full 1-3 hours of advance notice—or perhaps telling them where you'll be the next day.
The frequency of your updates may also depend on the method you're using to notify fans of your latest location. For example, let's say you choose to maintain a single calendar with your entire schedule. That means you won't need to update it as frequently as a method that only shows a single location at a time. With that in mind, let's talk about a few of the best ways to give fans updates on your location—and figure out how early and often you should use each one.
Updating Your Location
Some trucks tend to park in the same spots each day, but many FoodTruckrs roam across their cities and hit different locations every day of the week. If that sounds familiar, your truck can benefit from using one of these effective methods to send location updates to your fans.
1. Social Media
Without a doubt, social media is the most popular way for food trucks to tell fans where they are and where they're going next. At FoodTruckr, we've studied a lot of food trucks to see what they're doing well and how they can improve—and we've found that a lot of trucks are using sites like Facebook and Twitter primarily to keep fans updated on their latest locations. Check it out: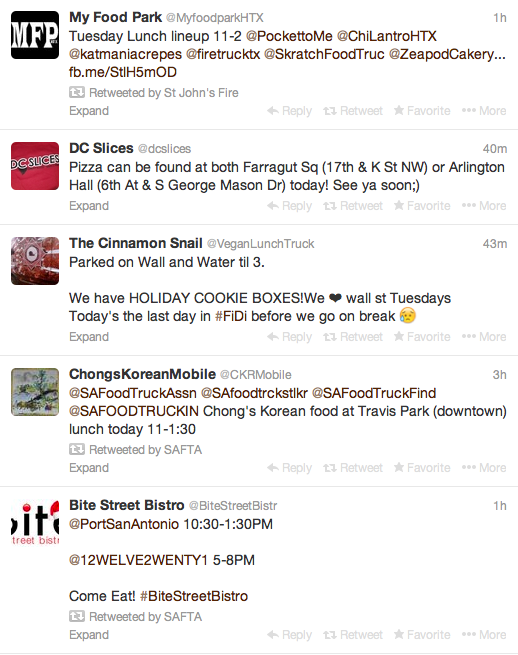 When we log on to our Twitter feed each morning, we're routinely greeted with a quick rundown of where some of our favorite FoodTruckrs are spending their days. Of course, we get more location updates than most people because we're in the business of following food trucks—but from a fan's perspective, your truck's location update is just one more tweet in a feed of messages from all kinds of people. The upside is that you're not competing against as many food trucks, but the downside is that you might need to work a little harder to stand out from all the other people on your fan's Facebook or Twitter feed.
To do that, be sure you aren't spamming people solely with self-promotional messages about your truck's latest location. That's one of the quickest ways to get someone to unfollow your truck or to simply start ignoring your updates. Instead, you should also be sending out other tweets and Facebook posts throughout the day that are funny, entertaining, or informative. Strive to create content that people will be interested in reading so that your fans have a real reason to follow you. Then, you can also include location update posts to tell people where you're going next. We recommend sending out at least two messages for each spot you visit—one message before you go there and one post when you're actually at the location.
2. Website Calendar
If you know where you're going in advance, your website should have a calendar that lists your schedule for the next few days, weeks, or even months. Naturally, a website calendar isn't feasible for every food truck. Trucks that face strict parking regulations and don't know where they'll be in advance can't make use of this simple tool as easily. But if your truck regularly hits the same locations or takes time off the streets for catering gigs and local events, there's no reason not to have a schedule listed on your website—even if it's as simple as a rundown of which days you'll be driving around and which days you're serving somewhere specific.
The Grilled Cheese Truck has one of the best calendars we've seen: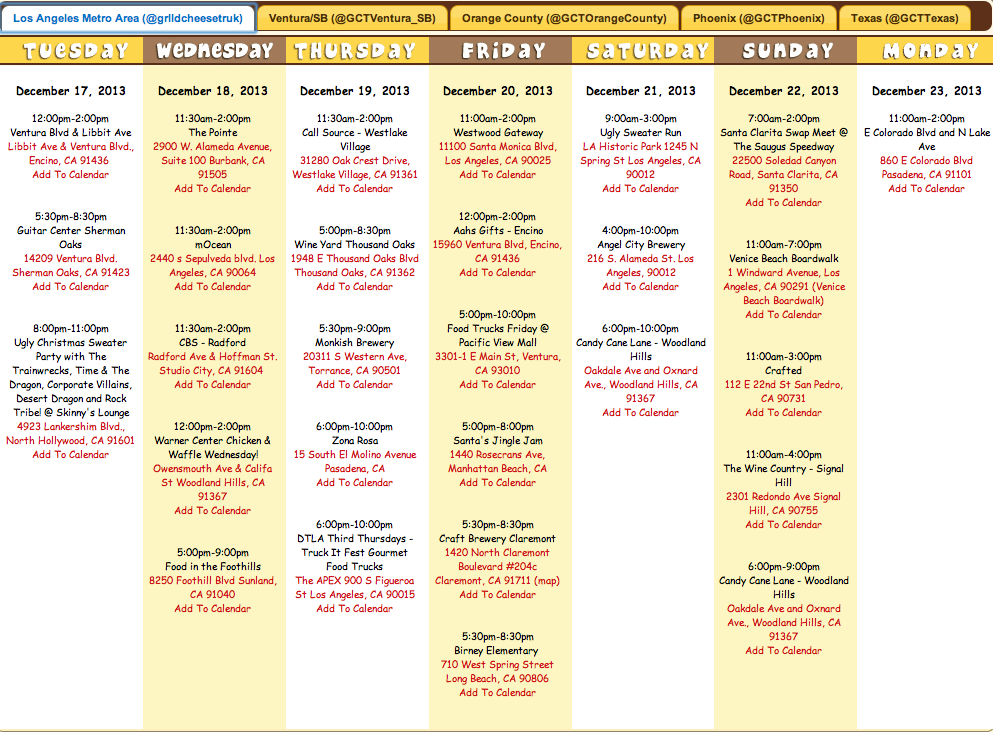 See how they list locations, addresses, and both start and end times for each new spot their truck goes? This format gives fans quick, simple access to all the information they need to plan a grilled cheese run. Above the days of the week, you'll also see separate tabs—one for each area where their trucks are roaming. Best of all, the calendar appears right on the front page of their website so that fans can always see exactly where they're at right now and where they're going next.
If you opt to keep a current schedule running on your website, you should update it every time you plan a new stop or book a catering event. That way, fans who are planning to stop by later in the week will always know when they can and can't find you on the street. We love how The Grilled Cheese Truck's calendar auto-updates to clear out days that have already passed, but you can get by with having older dates on the calendar so long as you update your schedule at least once each month.
3. An App That Supports Location Updates for Food Trucks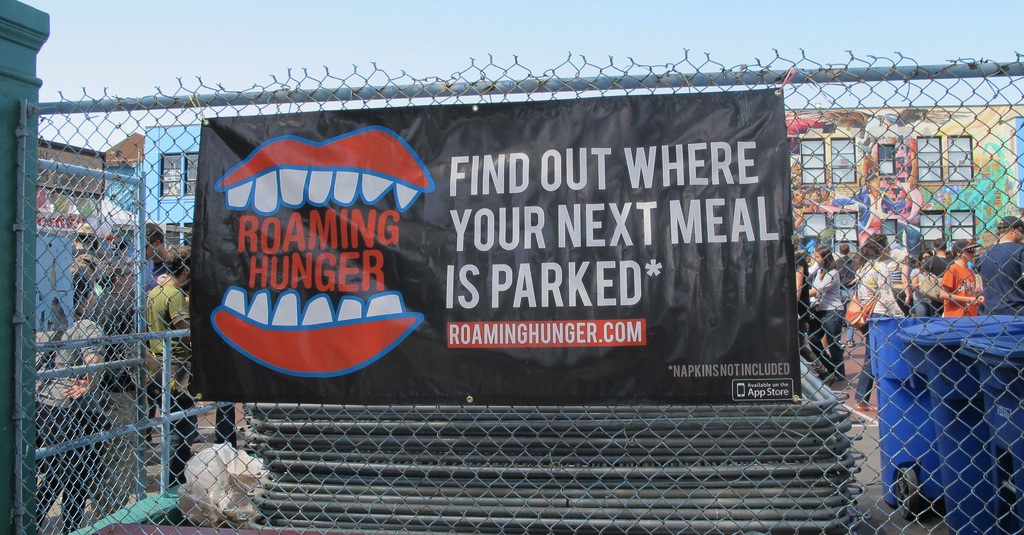 With the food truck industry taking off, there are a number of supporting businesses and companies popping up to offer services to FoodTruckrs across the country. That's where location update apps come in—simple pieces of software that your fans can download to find out where their favorite trucks are heading next.
To participate in some of these apps, you'll need to sign up and let the creators know that you want your truck included in their directory. Other apps simply pull updates from food trucks that are already sharing their locations on Twitter.
Wondering how to decide which apps to participate with? Well, we say the more the merrier! Since you don't know which app your fans will be using, it's a great idea to make sure you're listed with as many of them as possible. Of course, keep in mind that some apps are only available in select areas.
Eat St. and Roaming Hunger are two of the most established food truck location update apps, but there are a number of up-and-coming services prepared to take the food truck world by storm, including Truckily, Street Food App, and TruxMap. You can also use the regular Google Maps app or a program like Foursquare to update and share your current location through Facebook or Twitter.
To learn more about how location update apps work (and how they can bring more business to your truck), check back on Friday to listen to Episode 004 of FoodTruckr School, where Pat talks with Matt Berkland, co-founder and CTO of Truckily. Subscribe to the podcast now so you don't miss this episode!
Enticing Fans to Your Truck
You may already be drawing in a lot of foot traffic to your truck from people who walk by and can't resist the delicious smells wafting their way—but you can also entice fans who are sitting at their desks, starving while the clock slowly ticks, by updating your location regularly through social media, your website, and food truck apps.
What's your favorite way to let fans know where your truck is heading next? Share your best location update tips and techniques with other FoodTruckrs on our Facebook page.
images by ricardodiaz11, Gary Soup
There is no ads to display, Please add some