As is typically the case with any city that is flooding with food trucks, it's tough to find the best trucks to eat at in Chicago (because they are all so good).
With that in mind, today we are going to be looking at three Chicago food trucks that foodies need to try immediately. Whether you live in Chicago, plan on booking a trip soon, are thinking about venturing to this wonderful city during summer 2018 or whatever it might be, your taste buds will thank you if you grab a bite to eat at these delicious food trucks.
Chicago Food Trucks That Foodies Need To Try Immediately
Sign up to receive the FoodTruckr Newsletter and we'll throw in our free guide: 6 Free Social Media Tools to Get People Talking About Your Food Truck.
The Fat Shallot has food lovers covered in so many different food departments. After all, they have the Grilled Cheese, which features "muenster cheese melted between slices of sourdough with sautéed spinach and caramelized onions."
This otherworldly truck also has the Truffle BLT, which consists of "bacon, arugula, tomato, avocado and truffle aioli on challah."
In terms of their story (everyone loves a good story!), here's what this mobile kitchen is all about (via thefatshallot.com):
Sam Barron and Sarah Weitz are in love with food and eating. The two kindled a romance many years after they graduated from the same high school, discussing butter and discovering a shared commitment to all things delicious. This passion has led them around the world and back to Chicago, doing pop-up dinners, private parties, and catering events. And now the Fat Shallot food truck is on its way.
You can read the entire story by following this link.
This food truck's made-to-order sandwiches are a must-have for sandwich lovers (and food lovers in general).
If you're looking to make your mouth water — and then some — then make sure to check out The Fat Shallot Instagram page.
Looking for Food Trucks For Sale? Check out this link for more details!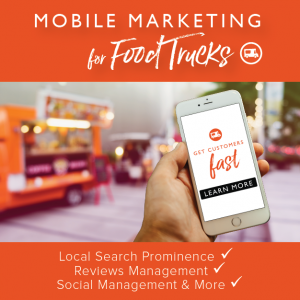 If you're a breakfast fan, then you're going to love what Babycakes has to offer.
Here's the "Chef's Philosophy" (via babycakestruck.com):
Chef Leah incorporates modern and classic culinary practices into her cooking, adding a dash of decadence and a splash of showmanship.  Food is art; meant to be eaten, discussed, and lusted after!

Babycakes serves gourmet, reinvented "breakfast" food.  Pancakes remind us of childhood.  Breakfast evokes home.  Babycakes elevates these classic dishes and serves them at any hour of the day or night.  Breakfast 24/7!
Get ready to drool, because this food truck's Instagram page is flooding with amazing meals.
Personally, we thought the Burger Baby with Cheddar-Rosemary Tater Tot Waffle Bun looked too good to be true, but, of course, this food truck has plenty of unique options in the pancake department as well.
Looking to take your food truck business to the next level? If so, then The Food Truck Growth Kit has your name written all over it!
The Happy Lobster Truck — just like so many other food trucks — has a great story attached to it. This story is all about three friends chasing one dream.
Friends for more than 15 years, the founders of Happy Lobster believe that you don't have to be blood to be family.  Nothing brings family together like great food.  In 2014, Alex Robinson, Tyler Cullitan, and Neal Bassett decided to leave their desk jobs for their dream of opening a food truck.  Their mission: Bring people together through their love of the lobster roll.
The Happy Lobster Roll looks great, the Angry Lobster Roll looks great, the Fried Haddock Sandwich looks great … and pretty much everything on this mobile kitchen's menu looks like a must-have.
The Happy Lobster Truck's job (per happylobstertruck.com):
Our job is to bring you the best, freshest lobster in Chicago.  The lobster we serve is caught fresh everyday in Maine.  Our bread is baked fresh everyday right here in Chicago.  We are confident in our ability to do our job.
And now, it's time to get to the part you've all been waiting for — this food truck's Instagram page. Trust us, you're going to want to check out these tasty pics … and you might be browsing them for quite some time.
Have a favorite Chicago food truck in mind? Feel free to share it with us below!
Are you currently doing any kind of email marketing or social media marketing? If so, then you should also be doing Facebook Messenger Marketing! Click here to find out more.
If you liked this article, then we encourage you to share your feedback, advice, questions and/or stories below!
Looking to build a new custom food truck? Check out this link for more details!
To dig your teeth into what FoodTruckr has to offer, make sure to like us on Facebook and follow us on Twitter, and also make sure to check out more content that we bring to the table.
There is no ads to display, Please add some