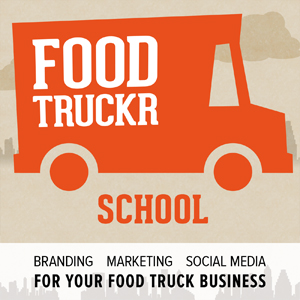 Welcome to a special episode of FoodTruckr school! Today, we're happy to welcome Tommy Marudi to the show, one of the three chefs on the champion food truck from this past season of The Great Food Truck Race.
After seven weeks on the road, Middle Feast took home the gold (and their food truck + $50,000!) in a well-deserved win in front of food truck fans watching from all over the world. City by city, challenge after challenge (and lesson after lesson), Tommy, his sister Hilla Marudi and friend Arkadi Kluger kept pushing forward and eventually winning the contest, but also our hearts.
Today, Tommy shares with us his excitement for the truck moving forward after the win (they don't even have their truck ready yet!), as well as what it was like as a chef on a food truck for the first time ever, and some awesome behind the scenes info about the show.
My favorite part is when Tommy talks about his inspiration – what truly helped him get through all the tough times while on the road – his daughter, who was waiting at home for him. Having a daughter myself, I could definitely relate, and again it's just one of the many reasons why we all loved that Middle Feast came out on top this season.
Listen in, enjoy, and remember if you're looking to start your own food truck dream, check out How to Start a Food Truck: The Definitive Guide, created by us! Use the coupon code itunes during checkout to get 20% off!
Links and Resources from the Show:
Right-click here to download the MP3 file
Thanks for Listening, and if you enjoyed it…
Please leave a rating and review on iTunes, and share with your friend and family if you'd like! Thanks so much, and we'll see you in the next episode of The FoodTruckr School Podcast!
photo credit: Food Network
There is no ads to display, Please add some