In this day and age, coffee is all the rage. As a result, everyone likes a good coffee story, and we have an amazing coffee story for you today.
FoodTruckr had the pleasure of speaking with Amy Herrmann of Better Buzz Mobile Espresso, which is located in Manchester Center, VT. In terms of Better Buzz Mobile Espresso's story, well, they started off as a brick-and-mortar cafe.
"We started our food truck after closing our brick-and-mortar cafe, Wired," Herrmann said. "That's very opposite of how it usually happens, but after a few years away we realized that there was still a gap, a need, if you will, for what we had been doing at Wired. We spent some time searching for another location but just couldn't find that right spot. We live in an interesting community, just a few miles from several ski areas. There are lots of second homes and business is very seasonal. We did find one neat location in town that could have worked had the rent not been astronomical (it stayed vacant for eight years after we opted out). But because we are still an "outlet" town, rents are geared toward large corporations, not the little guy."

"Fast forward a few years and I'm sitting on a bench outside of Kiplinger in D.C., waiting for my sister to take her lunch break. Food trucks were lining up (Franklin Square maybe?) and a little light bulb went off. Instead of opening another cafe and waiting for people to come to me, I should go to them!"
Sign up to receive the FoodTruckr Newsletter and we'll throw in our free guide: 6 Free Social Media Tools to Get People Talking About Your Food Truck.
That's what the food truck industry (or any industry, really) is all about. Finding a gap, if you will, in the market and then filling said gap with an amazing idea/concept. That is exactly what Herrmann did.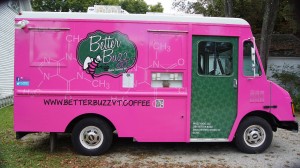 "We still had a fair amount of equipment in storage, so it was just a matter of finding the right truck. Everyone knows that trucks can get really expensive really quick. Opening a food truck in Southern Vermont is a real numbers game too. We don't have a huge population base, we probably won't operate year-round and the permitting for some towns is incredibly biased ("But it's not fair to the restaurants who pay more than you in rent, etc… permit denied!"). So with this in mind, we set our budget and began searching. It took about nine months for the perfect truck to pop up. But when it did, I had check in hand, ready to go. The irony of it was that I was buying one of the trucks that I had seen in Franklin Square in D.C. while waiting for my sister!"
And now, let's get to the product, the food, the coffee.
"We are an interesting little, pink truck. Our menu is deep when it comes to coffee and espresso based drinks. But, we don't have a large selection of food items. If I'm hanging out in my "spot" in Southern Vermont, I'll bake and frost some donuts and maybe make some muffins and/or cookies. But, when we are at a festival/concert/event, we are usually paired with a pastry/desert truck, which means we can focus on the coffee, which is our No. 1 item, followed by lattes and smoothies."
Since it is fall, a time when food truck owners tend to mix things up, we asked Herrmann if Better Buzz Mobile Espresso incorporates a fall menu. Here's what she had to say:
"Our Fall menu usually includes steamed cider, apple chai and pumpkin chai. We also have a local baker that we contract with for amazing cider donuts."
Of course, food truck owners have to prepare for the colder months, the winter. After all, not every single mobile kitchen is located in a place where nice weather is a year-round occurrence.
"Because we don't have a garage to park the truck in (yet), we have to watch the weather closely as winter approaches. Both my espresso machine and coffee machine have boiler systems that are prone to freezing, along with the roof mounted water tank and water lines. Once the long range forecast calls for sustained freezing temps, we offload the equipment and call it a season. Then, I wax my boards and go snow sliding!"
RELATED: Texas Chili Queens Is Providing Austin With An Endless Amount Of Chili Options. If you are a fan of chili (who's not?), then you have to give Texas Chili Queens a try.
If you ever find yourself at Better Buzz Mobile Espresso, you might want to go with the latte. After all, if someone could only order one meal off of the menu, that is exactly what Herrmann would recommend.
"If someone could order just one meal/item, I'd tell them to order a latte. We are constantly being complimented when it comes to our lattes. Both my husband and I spent time in Seattle attending a barista academy. We learned proper espresso extraction and steaming techniques and we've both been known to work on perfecting our free-pour latte art. Sorry about the silly looking rosetta! I've been in far too many coffee shops where the barista sets the wand in the steaming pitcher and walks away. Meanwhile the machine is screaming away and my milk is literally being burned. If your hand is not on that pitcher, controlling the swirl and monitoring the temperature, it probably isn't going to be a great drink."
Really successful food truck owners love everything about the food truck industry. They love the people, the food, running a food truck, etc. In terms of Herrmann's favorite part about this industry, she went with the people.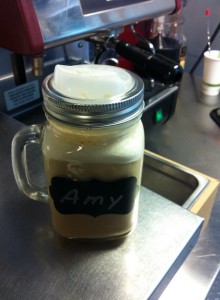 "My favorite part of being a food truck owner is meeting people. We go to so many different events throughout the year, which gives us a chance to meet and network with all kinds of characters. I could do without the long drives to get to some events but I knew that going into this. And if you get stuck behind me on some Vermont/New Hampshire back road, I'm sorry! My little truck drives like a waxed up saucer sled!"
When you are first starting off in the food truck industry, it's crucial to get as much advice and information as possible. Therefore, prospective owners might want to take this food truck advice to heart:
"Advice to new truckers? Write a ridiculously solid business plan and research regulations/permits before you even spend a dime. There is still a myriad of red tape that needs to be navigated for mobile vendors and it's not worth investing in a project if you can't even get a permit to operate."
To dig your teeth into what FoodTruckr has to offer, make sure to like us on Facebook and follow us on Twitter, and also make sure to check out more content that we bring to the table.
There is no ads to display, Please add some