We're suckers for a truck with personality, and our latest FoodTruckr Hero has totally stolen our hearts.
Monster PBJ out of Houston, Texas is an all-vegetarian and vegan/gluten-free friendly truck serving peanut butter and jelly sandwiches to scores of hungry fans. Their claim to food truck fame? A bold, can't-miss-it truck; an incredibly wide variety of ways to customize your PB&J; and the friendliest purple monster mascot you've ever seen.
As if that wasn't enough awesome for any one food truck, Monster PBJ's website shows off how much they rock it in the branding department. We're loving these four amazing features on their page:
1. Bright, Eye-Catching Background
For a brand as colorful, friendly, and playful as Monster PBJ's, this background is the perfect way to welcome visitors to their site. Check it out: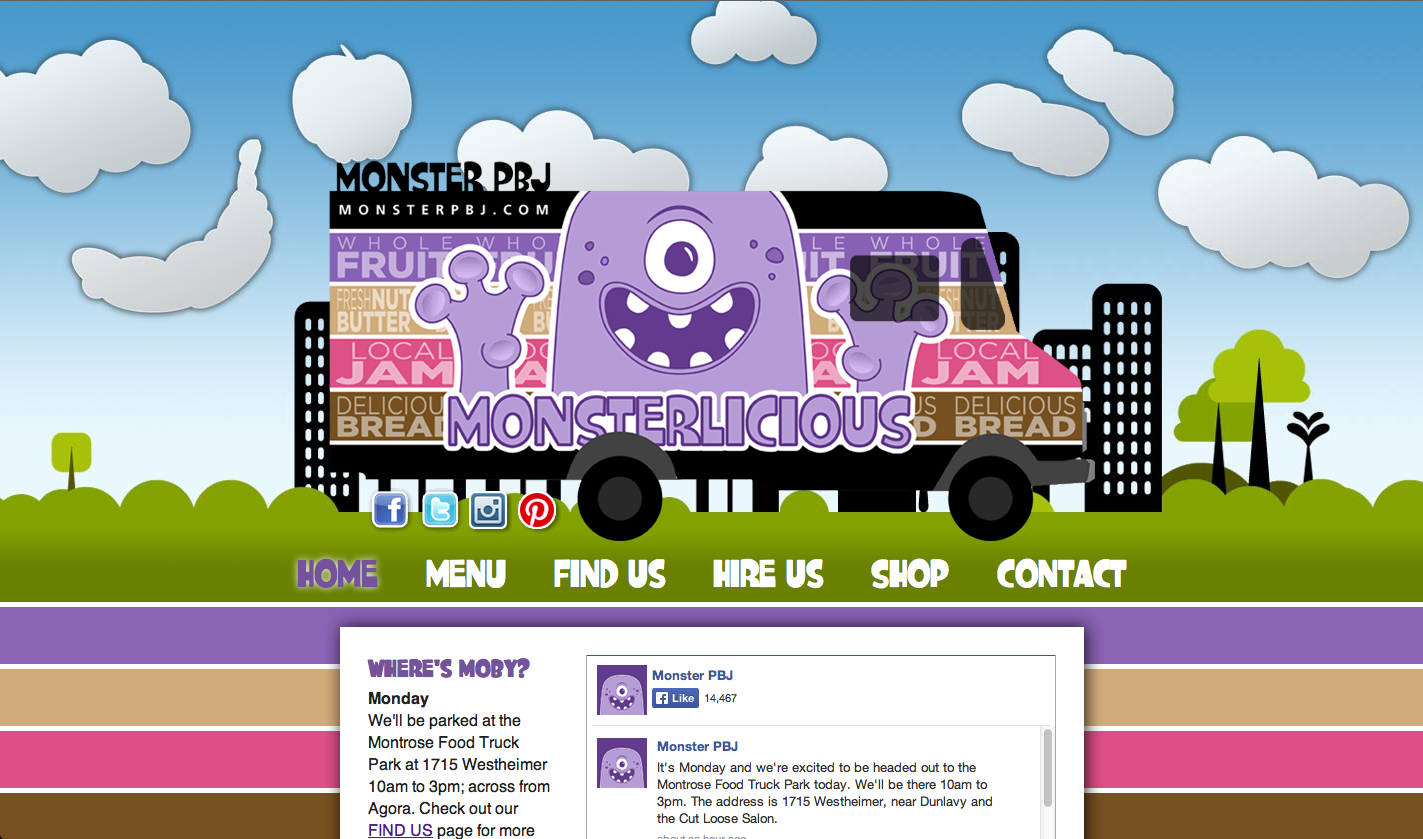 First off, see how the Monster truck is proudly displayed front and center to greet you? That's a welcoming sight for anyone who's interested in learning more about this awesome mobile restaurant.
Next, check out the purple, light brown, pink, and dark brown layers designed to mimic the ingredients in a peanut butter and jelly sandwich. The bright hues match the design of the truck itself, and are also a subtle and clever way to get fans hungry when they're viewing the site.
Finally, notice those clouds behind the truck? Yes, that is a slice of bread, a banana, and an apple (and possibly some peanuts and grapes!). And yes, we are staring up into the clouds now and dreaming about what we'd put on our own PB&Js.
2. Easy-to-Read Menu
On the Menu page, Monster PBJ fans get to totally customize their meals, choosing their favorite bread, nut butter, fruit, and toppings. You can also choose to have your sandwich grilled like a Panini or sliced—get it diagonally or in halves (we're betting most people choose the way their moms used to make 'em).
Add a drink, chips, piece of fruit, or cookie for just $2. It might sound like the lunch you ate every day in elementary school, but this food truck is serving up a totally fresh take on a very familiar food. It doesn't get better than that.
3. Monsterlicious Swag
For fans who want to show the world their love for this tasty truck, the Shop page offers plenty of Monsterlicious swag with sizes for the whole family. We wonder if they offer a discount to anyone who shows up for lunch in one of those super sweet shirts?
4. Custom Map
FoodTruckrs know that updating your location is key to helping fans find you on the street. Monster PBJ makes it easy for fans to find them by listing the times, dates, and addresses for all of their locations over the upcoming week. Each new locale also includes its own map complete with a mini-monster marking the spot.
Through a clear visual brand and the inclusion of important elements like maps and menus, Monster PBJ's not-too-serious website actually serves to show exactly how serious these FoodTruckrs are about their business. Keep up the great work, Monster team! You've won the hearts of fans by putting your own special twist on a beloved favorite—and you've successfully turned a brown bag classic into a modern must-have.
images from Monster PBJ's Twitter page and website
There is no ads to display, Please add some