Money … it's the one thing we all want more of.
So, how can you make more money at your food truck business?
In all honesty, it depends on your business. It depends on what you have and haven't done. It depends on what you are willing to try, how long you are willing to work and how much you hustle.
With that said, there are three ways food truck owners can gain more money, and said three ways can be found below.
Sign up to receive the FoodTruckr Newsletter and we'll throw in our free guide: 6 Free Social Media Tools to Get People Talking About Your Food Truck.
3 Ways For Food Truck Owners To Gain More Money
(3) Sell Product In Bulk, And Sell Merchandise
You might have tried this tactic already, and maybe you haven't. Let's start this twofer off with the selling-product-in-bulk aspect.
We aren't breaking new ground here. Plenty of restaurants sell their food in bulk, or make it accessible, if you will, outside of their business. While it might be hard to sell your food in stores, and you might also not want to take that drastic of a measure, you can still sell your food in bulk.
As an example (and one we have used in the past), if your food truck business specializes in, say, jam, you can sell your jam in jars to your customers on top of making food as customers order it. The key is moving more product, which will lead to an increase in revenue.
On to the second part.
You can sell merchandise at your food truck or online. This merchandise can be bottle openers, shirts, stickers — you name it. You can also give these types of things out for free in hopes of spreading awareness.
The key with this step, and the steps that follow, is creating another stream of income. Just remember: Every penny counts.
(2) Enter More Catering Gigs
This is one of the easiest ways to gain more money at your food truck, because it can lead to a great deal of money in just one day's worth of work. With that in mind, landing catering gig clients is likely easier said than done, but like with all things in life, the more you practice it, the easier it will become.
Catering gigs are great because you are getting your food truck's name out there, you typically know what you stand to make going into a gig (although that's not always the case) and one gig can lead to another.
If you are looking to add a stream of income into the mix in 2018, then it should definitely be catering gigs.
Note: These gigs can vary quite drastically, from weddings to birthday parties to food truck events to … well, the list could go on and on.
Looking for Food Trucks For Sale? Check out this link for more details!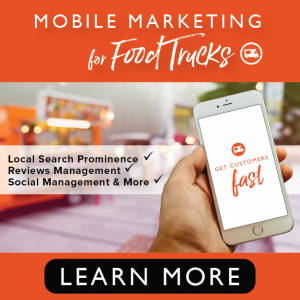 RELATED: 15 Motivational Quotes For Food Truck Owners In 2018
(1) Gain More Knowledge
Gaining more knowledge isn't going to directly lead you to a pile of cash, but that could be the case in time. After all, the more you learn, the more you earn.
Learn more about business, about the food truck industry, about social media, about marketing and advertising, about the food industry, about managing employees, about living a balanced lifestyle, etc.
If you want to be the best food truck owner you can possibly be, then you can never stop the journey that is learning. We live in a day and age in which an overload of information is out there for the taking … and for free!
About to join the food truck industry? If so, then make sure to check out the How to Start a Food Truck: The Definitive Guide.
Whether you do something as simple as reading an article or book, or go to conferences, you need to continue learning. The more knowledge you gain, and the more you apply that knowledge to your business, the more money you will make. That tends to be the case for any industry and profession. Take advantage of the information galore era we live in!
While there are plenty of ways to make more money in the food truck industry, we hope you can apply the three ways above to your business in some fashion.
Want to learn how to build a subscriber list for your food truck business? One of our managing partners here at FoodTruckr has put together an AMAZING FREE GUIDE that will teach you everything you need to know about getting started with Messenger Marketing! Click here to get your free guide.
If you liked this article, then we encourage you to share your feedback, advice, questions and/or stories below!
Looking to build a new custom food truck? Check out this link for more details!
To dig your teeth into what FoodTruckr has to offer, make sure to like us on Facebook and follow us on Twitter, and also make sure to check out more content that we bring to the table.