Editor's Note: Today we're excited to present a guest post from Adrian Cordiner. Adrian is a writer for nisbets.com.au. He is passionate about food, business, marketing, and technology, and never gets tired of sharing new discoveries. When not at a desk you'll find him running through the parks of sunny Sydney.
If you love food, one of the most exciting business opportunities you can get into is starting a food truck. There are a lot of reasons — independence, abundant potential, and doing something you love springs to mind. There's no doubt that the delicious food you're planning to serve will sell itself once your customers have had their first bite. But how do you get them there in the first place? That's where branding comes into its own, and why it's so important.
Sign up to receive the FoodTruckr Newsletter and we'll throw in our free guide: 6 Free Social Media Tools to Get People Talking About Your Food Truck.
1. Choose Your Business Name Wisely
The name of your business should tell a story about who you are. You can't afford to change it in a couple of months because you get bored, so think carefully.
Choosing a good food truck name is similar to choosing a good restaurant name — it has to suit what you're about, and work with your product and brand. If you're really lost, start by writing down companies, restaurants and other food trucks that you like the names of. You might start to see a pattern of preference that could eventually inspire the perfect name.
Remember that your name will be directly linked to your identity — your logo, truck design, menus, website, social media. If you can visualize it in all of these contexts, maybe you've got a winner!
Looking to build a new custom food truck? Check out this link for more details!
2. Design, Design, Design
What location is to real estate, design is to branding. Your brand  is the cornerstone of your marketing strategy and it sets the tone for your business, your entire customer experience. You need to stand out in the marketplace, and a strong design that compliments your concept and communicates the kind of business you are is essential. It also needs to be distinctive — it's pointless if someone looks at your logo and immediately thinks of your competitor.
Nowadays design marketplaces such as 99designs and DesignCrowd make great designs easily accessible and more affordable for smaller businesses. Whoever you work with, finding a designer who understands your target market and product will result in fonts, colors and styling that appeals to the right people.

3. First Impressions Count
Remember that the first experience customers have with you starts long before they have actually tasted anything. Whether it's your truck's paint job, the music you're blasting or the energy of your staff, first impressions definitely count.
Think of how many times you've been to restaurants where a tatty, photo-copied menu has been your introduction to the establishment. Or when the person serving you seemed to have a thousand other things they'd rather be doing. How did that make you feel?
Customers are often looking for more than just a full stomach when they are eating out — they are looking for a real, complete experience. The last thing you want is people marking down your incredible food (or worse, not even trying it at all) simply because your branding, or lack thereof, puts them off.
RELATED: 3 Things That Will Make Or Break Your Food Truck Business. Spoiler: The infamous business plan made the list.
4. Second Impressions Count, Too
Don't think that customers stop being customers as soon as they walk away. It's important to maximize the opportunity for repeat customers every time someone engages with your brand.
As you're building your social media following, offer discounts or special offers to people who follow you or leave reviews. Find the time to respond to any reviews or inquiries online, even if it's just a "thank you."
Traditional methods of marketing (such as business cards or takeaway menus) can still be effective, just make sure they are interesting and worth keeping, and feature some kind of call-to-action. For example, contact us via email, leave a review, connect with us through social media.
Check out the infographic "Food Truck Marketing 101" for some marketing ideas that will keep customers engaged and coming back for more, time after time.
5. Maintain That Online Presence
It's one thing to have a Facebook page, it's quite another to have a social media strategy. It's a lot of work to keep energized, relevant and on brand, but it is also essential to a mobile business.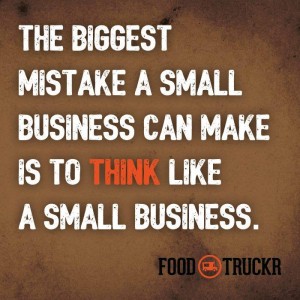 Facebook, Instagram and Twitter have proven themselves popular within the food trucking community. Though your branding and posting should be consistent across all platforms, different networks have different features that make them unique.
Facebook is great for engaging with your customers, hosting contests and sharing promotions. Instagram is perfect for showcasing delicious pictures of your food, and creating a strong visual identity. Twitter works for sharing relevant content and news.
Check out aggregators like Zomato and Yelp – you should be there, too, and on any platform that is going to spread the word and bring you customers. Check out what the other food trucks in your area are up to, and where they're posting. Many cities have food truck communities and food truck location trackers.
Most important of all, keep your location up to date. There is no point in all of this effort if you cannot be found! A daily update of where you are is a task that can't be overlooked.
Though starting out with a solid brand will work wonders, the most successful food trucks in the industry have made it a continuing priority. Regularly review your branding so that it remains true, strong and consistent, and enjoy the looks on the faces of your customers when your amazing food is everything they had hoped for!
To dig your teeth into what FoodTruckr has to offer, make sure to like us on Facebook and follow us on Twitter, and also make sure to check out more content that we bring to the table.
There is no ads to display, Please add some