Can you believe it's almost February? It seems like it was just yesterday when we were celebrating the new year that is 2018.
We hope your year is off to a great start, FoodTruckrs, and we also hope you are already chipping away at your goals for 2018.
With February 2018 almost here, we figured now would be the perfect time to focus in on some food holidays for the month of February. While there are quite a bit of food holidays coming up, we encourage food truck owners to focus in on as many food holidays as they would like to, such as the 10 below — well, if you want to, that is, and if you feel like spicing up the menu with a food holiday.
10 Food Holidays Mobile Kitchen Owners Should Watch Out For In February 2018
Sign up to receive the FoodTruckr Newsletter and we'll throw in our free guide: 6 Free Social Media Tools to Get People Talking About Your Food Truck.
February 1
National Dark Chocolate Day
February 2
National Tater Tot Day
February 4
National Homemade Soup Day
February 7
National Fettuccine Alfredo Day
February 9
National Pizza Day
February 13
National "Italian Food" Day
February 20
National Muffin Day
Looking for Food Trucks For Sale? Check out this link for more details!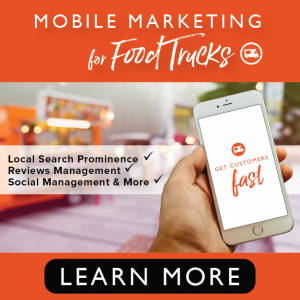 February 22
National Cook A Sweet Potato Day
February 23
National Chili Day
February 27
National Strawberry Day
Looking to take your food truck business to the next level? If so, then The Food Truck Growth Kit has your name written all over it!
Feel free to celebrate these food holidays (or ones that weren't listed above) however you see fit. The idea is giving your food truck customers something to celebrate in the form of a new meal.
Looking for some food truck advice? Make sure to check out the three previews below, and then get a full serving by clicking on the links to the entire articles.
3 Simple Ways To Make Your Food Truck Customers Happy
Preview:
2.) Do More Than Take A Customer's Order

Once again, we understand how busy things can get, which means you can't socialize with every single customer, especially if your line is flooding with people, but you should still try to make an effort to interact with your customers.

Simply put, don't just take their orders. Ask them how their days are going, give them suggestions for a meal or whatever it might be.

Quality customer service is one of the most important things for your business, and it all starts with taking a customer's order.
3 Simple Ways Food Truck Owners Can Gain More Confidence
Preview:
2.) Continue The Journey That Is Learning

Gaining more knowledge, in its simplest form, can lead to you gaining confidence. Of course, it can also lead to you learning more, which could then lead to you making your business better in so many different areas, such as the manager department, the business department, etc.

So, if you are wanting to gain more confidence, then make sure to continue the journey that is learning.

Tip: Read books and articles that relate to the areas you are unfamiliar with or are wanting to learn more about, because this could lead to you becoming stronger in the areas you aren't quite an expert in yet. The more areas you become an expert in, the more confident you should become.
Ways To Spice Up Your Food Truck Journey
Preview:
4.) Start Up Another Food Truck: Have the funds and employees to start up a new food truck? Maybe this is the type of venture you needed to spice up your food truck journey, and this venture could lead to your profits skyrocketing.

3.) Learn How To Create A Healthy Work-Life Balance: This is tough for the simple fact that you are probably at your mobile kitchen quite often. However, a work-life balance will lead to you having a balanced life, and it will also lead to you not being at work 24/7. With that said, running your business is likely priority No. 1. However, as your business grows, you should be able to delegate some of your tasks, and that could lead to you freeing up your schedule. Reminder: Even a simple walk during your downtime could spice up your food truck journey, and get the mind right and refreshed.
Want to learn how to build a subscriber list for your food truck business? One of our managing partners here at FoodTruckr has put together an AMAZING FREE GUIDE that will teach you everything you need to know about getting started with Messenger Marketing! Click here to get your free guide.
If you liked this article, then we encourage you to share your feedback, advice, questions and/or stories below!
Looking to build a new custom food truck? Check out this link for more details!
To dig your teeth into what FoodTruckr has to offer, make sure to like us on Facebook and follow us on Twitter, and also make sure to check out more content that we bring to the table.
There is no ads to display, Please add some