Another year is upon us, which means another year of delicious food holidays is also upon us, and with that in mind, we are going to highlight 10 food holidays mobile kitchen owners should watch out for in January 2018.
While you don't have to incorporate a meal for every single food holiday below, it's never a bad idea to spice things up in the form of adding a new special, even if it's for a limited amount of time.
So, with that said, if you see a food holiday below that you could crush at your food truck, then by all means … feel free to add some form of meal/item to your menu on the day of your choice.
Good luck, and enjoy all of the food holidays in 2018!
Want to learn how to build a subscriber list for your food truck business? One of our managing partners here at FoodTruckr has put together an AMAZING FREE GUIDE that will teach you everything you need to know about getting started with Messenger Marketing! Click here to get your free guide.
Sign up to receive the FoodTruckr Newsletter and we'll throw in our free guide: 6 Free Social Media Tools to Get People Talking About Your Food Truck.
10 Food Holidays Mobile Kitchen Owners Should Watch Out For In January 2018
Jan. 4
National Spaghetti Day
Jan. 7
National Tempura Day
Jan. 12
National Glazed Doughnut Day
Jan. 14
National Hot Pastrami Sandwich Day
Jan. 18
National Gourmet Coffee Day
Jan. 19
National Popcorn Day
Jan. 20
National Cheese Lover's Day
Jan. 24
National Peanut Butter Day
Jan. 27
National Chocolate Cake Day
Jan. 30
National Croissant Day
Looking for Food Trucks For Sale? Check out this link for more details!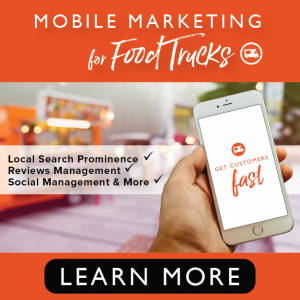 We love to unleash an overwhelming amount of advice whenever we get the opportunity, and with that said, we will be dropping three articles below that can help you out during your food truck journey. Make sure to check out each preview, and then click on the links to get your full-course meal, if you will.
Looking to take your food truck business to the next level? If so, then The Food Truck Growth Kit has your name written all over it!
How Food Truck Owners Should Approach Their 2018 Goals
If you need to make SMART goals to achieve success, then do so. However, if you like to be more flexible with your goals so they don't seem like a task/job/chore, then be more flexible with them. At the end of the day, you, food truck owner, are the one who has to follow the goal, so while receiving advice from an outside perspective allows you to get a … well, outside perspective, it doesn't mean it is the answer for you.

You are the one who is the food truck owner. You know how your food truck operates, you know what is achievable at your truck and you know how to make your own dreams come true (you became a food truck owner, right?).

There are people who, instead of making goals, like to create habits, and then work on those habits throughout the year. For example, if someone wanted to write a 60,000-word book, but said someone doesn't write that much in the first place, or always breaks his/her writing commitments, then it would be better to just build a habit of writing as opposed to making the goal 60,000 words. In time, the work will get done, and this person in question will have built the habit that is writing on a daily/weekly basis.
3 Ways To Make More Time In The Food Truck Industry For Business Owners
This is one of the most simple ways to add more time to your day, and it is also a great approach when it comes to getting more done in less time. For example, if you delegate work to your trusted food truck employees, and then do other work while they are doing the delegated work, you will literally be getting done with more work than before … but in the same amount of time. Or, you could simply be more of a manager, and have less work to do after delegating work.
How To Conquer Burnout In The Food Truck Industry
If you're really struggling with burnout, then you need to look at the big picture. Ask yourself this question: Why did I become a food truck owner in the first place?

Why did you enter this industry? What made you want to become a chef? Think back to a time when you were down on your luck/when you weren't happy/when you were working at a job you hated. Next, take a look at where you are now — you're running your own food truck!

Sometimes, looking at the big picture and revisiting your goals is all you need to get out of a funk/conquer burnout. Use this little trick to your advantage as many times as you would like.
If you liked this article, then we encourage you to share your feedback, advice, questions and/or stories below!
Looking to build a new custom food truck? Check out this link for more details!
To dig your teeth into what FoodTruckr has to offer, make sure to like us on Facebook and follow us on Twitter, and also make sure to check out more content that we bring to the table.
There is no ads to display, Please add some