Editor's Note: Today we're excited to present a post from Jeremy Adams. Jeremy is the President/CEO of Prestige Food Trucks, which is the world's leading custom food truck manufacturer. In his current role as President/CEO, Jeremy manages dozens of employees, interacts with clients, and maintains a healthy relationship with all of his business partners. Since Prestige, Jeremy has launched many other successful companies.
If you plan on making it as a food truck owner, then there are a million different things you have to do right. Okay, that might be pushing it a bit, but you have to constantly be pulling off juggling acts whether it is in the kitchen or from a business standpoint.
With that in mind, food truck owners can do themselves a huge favor by looking at how other people in different industries succeed. So, let's take a look at two ways entrepreneurs bring success into their lives, shall we?
Sign up to receive the FoodTruckr Newsletter and we'll throw in our free guide: 6 Free Social Media Tools to Get People Talking About Your Food Truck.
2 Invaluable Keys To A Food Truck Entrepreneur's Success
Proper Amount Of Sleep Each And Every Night
An All-Star Schedule That Incorporates Everything
Proper Amount Of Sleep Each And Every Night
No matter what industry you are trying to conquer, and especially if you are an entrepreneur of any kind (that means you as well, food truck entrepreneurs), then you have to get the proper amount of sleep each and every night.
One might be wondering why this is important. It's pretty basic. If you aren't getting the proper amount of sleep, then you will not be as alert, focused and on top of your game as you should be each and every day. If you are really lacking in the sleep department, then the only thing you will be able to think about is sleep, which means your goals — and job — will get placed on the back burner.
Looking for Food Trucks For Sale? Check out this link for more details!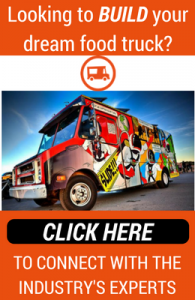 The food truck industry is tough enough as it is, so do yourself a favor by getting your proper amount of sleep each night. It will lead to you being ready to take on the day every single day, and your productivity will likely get a boost as well.
RELATED: 2 Invaluable Things Food Truck Chefs Need To Learn From Business Owners. The sooner you learn these things from business owners, the sooner you will conquer the food truck industry.
An All-Star Schedule That Incorporates Everything
Time is so valuable, no matter what your job/profession might be. As a result, you need to use your time wisely. The best way to do that? Create a schedule that incorporates everything.
If you start incorporating everything into your daily/weekly schedule, two things will happen: (1) You will get done with everything you set out to do. (2) You will be surprised by how much extra time you will create for yourself.
Here's the biggest thing: Your all-star schedule needs to incorporate every single detail. Yes, even breaks. Account for every minute and hour of the day. That is how you get the absolute most out of your time, and that is also how you conquer the fine industry that is the food truck industry.
Looking to start your own food truck? Prestige Food Trucks can do wonders for you in that department.
To dig your teeth into what FoodTruckr has to offer, make sure to like us on Facebook and follow us on Twitter, and also make sure to check out more content that we bring to the table.
There is no ads to display, Please add some