The holidays are the perfect time to reflect, and to also find things to be thankful for, and with the holidays among us, we are going to do exactly that in the form of featuring three FoodTruckr articles that revolve around being thankful.
Check them out below, figure out what you are thankful for and enjoy the holiday season!
Want to learn how to build a subscriber list for your food truck business? One of our managing partners here at FoodTruckr has put together an AMAZING FREE GUIDE that will teach you everything you need to know about getting started with Messenger Marketing! Click here to get your free guide.
3 FoodTruckr Articles About The Importance Of Being Thankful
Sign up to receive the FoodTruckr Newsletter and we'll throw in our free guide: 6 Free Social Media Tools to Get People Talking About Your Food Truck.
1. Food trucks are delicious.

The first reason we love food trucks is an easy one—they're delicious. From fusion foods to gourmet burgers to delectable desserts, food truck owners around the country are cooking up incredibly savory and crave-worthy foods. We love them all.

2. Food trucks make dreams come true.

Many people start food trucks because they love cooking and serving food, but there are hundreds of current and aspiring food truck owners who have chosen to pursue this industry because they want to work for themselves and operate their own businesses. Food trucks owners get to create their own destinies and make their own decisions. In short, food trucks offer freedom.

3. Food trucks offer plenty of room for creativity.

We're continually amazed by all the incredible concepts food truck owners are coming up with. From bacon trucks to waffle trucks to peanut butter trucks, FoodTruckrs have shown their creativity and ingenuity again and again.
Looking to take your food truck business to the next level? If so, then The Food Truck Growth Kit has your name written all over it!
1. Food Truck Fans

Without a doubt, food truck fans are one of the things that get us feeling the warmest and fuzziest inside. Fans keep your trucks going—and so even though we don't get to interact with them as much as we get to talk with all of you, we're so thankful that they're out there and keeping food trucks like yours on the streets.

Dedicated food truck fans are the reason the food truck industry has grown so dramatically over the past several years, and they're the reason that aspiring entrepreneurs all across the country are starting their own food trucks with great excitement and confidence. We love seeing how passionate your fans get about your latest creations and your most popular menu items, and we're so thankful that we get to share in their joy.

2. Delicious Ingredients

Fresh, locally-grown vegetables. Homemade sauces infused with spices and homegrown herbs. Slow-roasted pork and barbecued chicken. Chocolate chips baked into warm, soft cookies with love. It's not even time for turkey yet, and we're already getting hungry!

We're thankful today (and every day!) for delicious ingredients because they allow FoodTruckrs to create some truly amazing dishes. From homemade artisan treats to fresh takes on classic carnival foods, we appreciate all the grocery store goodies that go into our favorite meals. We're thankful they exist, and we're thankful that you have access to them. And most importantly, we're thankful that we get to eat them!
Looking for Food Trucks For Sale? Check out this link for more details!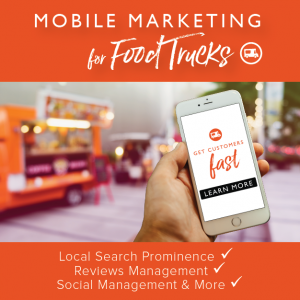 10.) "Gratitude turns what we have into enough, and more. It turns denial into acceptance, chaos into order, confusion into clarity…it makes sense of our past, brings peace for today, and creates a vision for tomorrow." — Melody Beattie

9.) "He who is not contented with what he has, would not be contented with what he would like to have." — Socrates

8.) "Let us rise up and be thankful, for if we didn't learn a lot today, at least we learned a little, and if we didn't learn a little, at least we didn't get sick, and if we got sick, at least we didn't die; so, let us all be thankful." — Buddha

7.) "It is necessary, then, to cultivate the habit of being grateful for every good thing that comes to you, and to give thanks continuously. And because all things have contributed to your advancement, you should include all things in your gratitude." — Wallace D. Wattles
If you liked this article, then we encourage you to share your feedback, advice, questions and/or stories below!
Looking to build a new custom food truck? Check out this link for more details!
To dig your teeth into what FoodTruckr has to offer, make sure to like us on Facebook and follow us on Twitter, and also make sure to check out more content that we bring to the table.
There is no ads to display, Please add some