Whether food truck owners want to admit it or not, social media is a big deal when it comes to promoting a mobile kitchen business.
With social media, you can reach more people, get your truck's name out there, engage with your fans … and that's just the beginning.
In hopes of helping you out in this department, make sure to check out the three articles below (previews included).
Want to learn how to build a subscriber list for your food truck business? One of our managing partners here at FoodTruckr has put together an AMAZING FREE GUIDE that will teach you everything you need to know about getting started with Messenger Marketing! Click here to get your free guide.
3 FoodTruckr Articles That Will Help Owners Out With Social Media
Sign up to receive the FoodTruckr Newsletter and we'll throw in our free guide: 6 Free Social Media Tools to Get People Talking About Your Food Truck.
2 Effective Ways Food Truck Owners Can Boost Their Social Media Game
It's okay if you aren't a social media guru. Likewise, it's okay if you don't want to spend all of your free time trying to come up with a social media strategy that will benefit your food truck business in the short-term and long-term.

With that said, you still have to have a strong social media presence if you are going to become the most successful version of yourself — well, at least when it comes to your food truck, that is. You see, social media alone could lead to more people venturing to your truck and brand awareness.

Below, you will find two ways to take your social media game to the next level if you want to spend your time elsewhere. After all, you are already busy in the kitchen, coming up with menus and trying to manage employees.
Looking for Food Trucks For Sale? Check out this link for more details!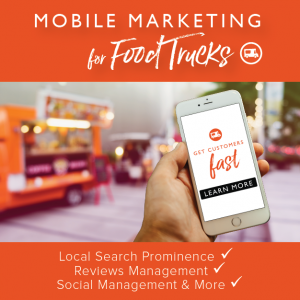 How to Run a Food Truck 20: Improve Your Social Media Outreach
It's time to continue onward with Unit 5 of the "How to Run a Food Truck" series! Today, we bring you more marketing strategies for advanced food truck owners with an all-new lesson on connecting with fans through social media.

Most of you probably already have a pretty good idea of what type of content you should be posting on platforms like Facebook and Twitter, so today's lesson will focus on strategies you can use to manage your social media platforms more effectively and on some brand new ways to improve the content you're sharing. If for any reason you haven't gotten started on Facebook and Twitter yet, be sure to check out this post from the "How to Start a Food Truck" series for an introduction to the platforms and for a guide to what kinds of posts work best for food truck owners.

Ready to make your social media outreach work better for you? Then let's get started by looking at what you should be doing with Facebook and Twitter on a daily and weekly basis below!
Looking to take your food truck business to the next level? If so, then The Food Truck Growth Kit has your name written all over it!
3 Reasons Why Your Food Truck Business Should Hire A Social Media Expert
It's Called Delegating — And You Are Crushing It

There comes a time and place in which a business owner needs to start handing off duties to employees, and that time and place might be rearing its head for you.

When you can afford to delegate some of your work (some owners can't afford to pay their employees, or hire employees, until later down the road), that is the moment you really start getting a lot done. You see, when you delegate work, you become more productive, because the delegated work is getting done during the same time as the work you replaced it with is getting done.

Delegating is one of the best ways for a business owner to feel less stress, because it takes work off of his/her plate, and food truck owners need to take note! Basically, delegating is how you take your food truck game to the next level.

Of course, in this case, the delegated work would be social media efforts (and possibly marketing as well).
You might not be a fan of social media, but it's yet another ingredient that every food truck owner has to add into the mix, whether you run your social media networks yourself, or you hire someone else to do it.
If you liked this article, then we encourage you to share your feedback, advice, questions and/or stories below!
Looking to build a new custom food truck? Check out this link for more details!
To dig your teeth into what FoodTruckr has to offer, make sure to like us on Facebook and follow us on Twitter, and also make sure to check out more content that we bring to the table.
There is no ads to display, Please add some