Editor's Note: Today we're excited to present a post from Jeremy Adams. Jeremy is the President/CEO of Prestige Food Trucks, which is the world's leading custom food truck manufacturer. In his current role as President/CEO, Jeremy manages dozens of employees, interacts with clients, and maintains a healthy relationship with all of his business partners. Since Prestige, Jeremy has launched many other successful companies.
You did it. You had a dream in mind, and you made it come true. You wanted to become a food truck owner — while knowing very well of the challenges that were ahead of you at the time — but you still fought through everything and started up your own food truck business.
You should be very proud of yourself! Not many people take the risk that is following their dreams, but you did.
Still not convinced? Below, you will find three reasons why you should feel accomplished if you are a food truck owner.
Sign up to receive the FoodTruckr Newsletter and we'll throw in our free guide: 6 Free Social Media Tools to Get People Talking About Your Food Truck.
3 Reasons Why You Should Feel Accomplished If You Are A Food Truck Owner
3. You Started Up Your Own Business
Do you know how hard it is to start up your own business? Of course you do — because you literally achieved that feat. So many people dream of starting up their own business in hopes of not working for another person again, making more money and loving what they do. You, more likely than not, accomplished all three of those feats with one venture.
Not only did you start up your own business, though, but you are currently running a thriving business.
About to join the food truck industry? If so, then make sure to check out the How to Start a Food Truck: The Definitive Guide.
2. You Followed Your Dreams
So many people are stuck at dead-end jobs. They hate their work, they hate their boss, etc. They have a dream in mind, a better life that all starts with a profession change, but they are afraid to take the leap and follow their dreams.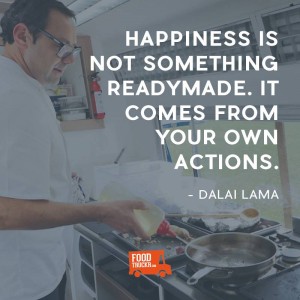 You, on the other hand, took the leap, believed in yourself and turned your dream into a reality. Not everyone can say that. Not only that, but you are doing what you love to do every single day. That alone should make you feel extremely accomplished.
Looking for Food Trucks For Sale? Check out this link for more details!
1. You Didn't Let The Naysayers Persuade You
There are many different reasons why people decide to not follow their dreams, and one of those reasons is this: People are afraid of what the naysayers will think. You typically can't win with said naysayers, which is why, spoiler alert, you should eliminate said naysayers from your life (as well as negative mindsets).
These people don't walk in your shoes. They might pretend like they do by giving their take on everything, but you are the one who has to live with your decisions — not them. Even still, it's tough to follow your dreams when you have people criticizing you every step of the way … but you didn't let the naysayers win — you made a plan, took action and became a food truck owner.
For the three reasons above (along with so many other reasons), you should feel accomplished about what you have become, which is a thriving food truck owner.
If you liked this article, then we encourage you to share your feedback, advice, questions and/or stories below!
Looking to build a new custom food truck? Check out this link for more details!
To dig your teeth into what FoodTruckr has to offer, make sure to like us on Facebook and follow us on Twitter, and also make sure to check out more content that we bring to the table.
There is no ads to display, Please add some