Editor's Note: Today we're excited to present a post from Jeremy Adams. Jeremy is the President/CEO of Prestige Food Trucks, which is the world's leading custom food truck manufacturer. In his current role as President/CEO, Jeremy manages dozens of employees, interacts with clients, and maintains a healthy relationship with all of his business partners. Since Prestige, Jeremy has launched many other successful companies.
How bad do you want to enter the food truck industry? How bad do you want to be a food truck owner, an owner who runs his/her own kitchen and makes the recipes of his/her dreams?
If you want something bad enough, such as owning your own food truck business, then you have to take real action. No one said it was going to be easy, but you need to stop the dreaming act and actually do, for a food truck owner can't be a dreamer alone … a food truck owner also has to be a doer.
With that in mind, if you want to join the food truck industry, then the three things below are going to help get you there.
Sign up to receive the FoodTruckr Newsletter and we'll throw in our free guide: 6 Free Social Media Tools to Get People Talking About Your Food Truck.
3 Things That Are Going To Get You Into The Food Truck Industry
3.) The Obvious One: Money
While money alone is not going to lead to you climbing to the top of the food truck industry — because you have to have a good business, great food, otherworldly customer service and so many other ingredients — it is going to lead to you purchasing a food truck. You have to have this ingredient if you plan on entering the mobile kitchen industry as an owner, but this you likely already know.
Looking to take your food truck business to the next level? If so, then The Food Truck Growth Kit has your name written all over it!
2.) A Positive Mindset
You can't follow your dreams with a negative mindset. In fact, if you have a big dream in mind and you are a negative person, or hold negative mindsets, then you will get discouraged in no time, or stop following your dreams altogether because you simply don't think they are achievable. A positive mindset is a must-have, and it's non-negotiable, really.
Looking for Food Trucks For Sale? Check out this link for more details!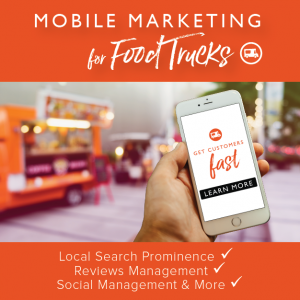 RELATED: 3 Ways To Make More Time In The Food Truck Industry For Business Owners
1.) A Burning Desire To Succeed
If you want to become a food truck owner, then you have to really, really want it. In fact, it has to be the only thing you think about. Okay, okay, you don't have to become that obsessed, but you do have to take action. Even if your steps are baby steps, you need to make steps toward your goal of becoming a food truck owner each and every day. You might not be able to enter the food truck industry tomorrow, next week or even next year, but you have to continue to move forward, and that is where a burning desire to succeed comes into play.
Thanks to this burning desire, you will never quit — you will continue to hustle until all of your goals and dreams come true.
You don't have to shout it from the top of a mountain (or simply tell all of your friends and family on social media) to have a burning desire (unless you want to do those things, of course) — you just need to know in your mind you are going to achieve success, that you are going to become a food truck owner, and take steps every day to become what you want to be.
More likely than not, a lot of your free time will consist of you doing things for your future food truck, because that is the only thing you can think about, and it's the only thing you want to be doing.
If you liked this article, then we encourage you to share your feedback, advice, questions and/or stories below!
Looking to build a new custom food truck? Check out this link for more details!
To dig your teeth into what FoodTruckr has to offer, make sure to like us on Facebook and follow us on Twitter, and also make sure to check out more content that we bring to the table.