Editor's Note: Today we're excited to present a post from Jeremy Adams. Jeremy is the President/CEO of Prestige Food Trucks, which is the world's leading custom food truck manufacturer. In his current role as President/CEO, Jeremy manages dozens of employees, interacts with clients, and maintains a healthy relationship with all of his business partners. Since Prestige, Jeremy has launched many other successful companies.
The food truck industry is booming, which means food trucks are popping up all across America. That, of course, means more and more people are wanting to become mobile kitchen owners. With that in mind, you should become a food truck owner because it's your dream, not because it sounds good on paper.
So many people feel like becoming writers because they want to live the writing lifestyle, if you will. They look back at some of the greats, such as Ernest Hemingway, and analyze/research how he lived, and then they think they can — and should — live like that as well. Hemingway was Hemingway, and you are not Hemingway. You are you.
With that said, you shouldn't become something, such as a writer, or food truck owner, just because the "lifestyle" seems like a dream come true on paper. You should become something because you are truly passionate about it. Therefore, become a food truck chef because you truly love to cook.
Sign up to receive the FoodTruckr Newsletter and we'll throw in our free guide: 6 Free Social Media Tools to Get People Talking About Your Food Truck.
If you are thinking about joining the food truck industry, then just know this: Cooking might be an important part of the equation, but you are also going to have to become a business owner, you are going to have to become skilled in the marketing and social media departments, you are going to have to work long hours (and probably every day of the week), you are going to have to drive a huge truck, you are going to have to cook in an extremely hot truck/kitchen (the summers get intense!) and the list goes on and on.
Many aspiring food truck owners already know what it takes to be a successful mobile kitchen owner, and they welcome the challenge. However, some people think they are just going to be cooking food, experimenting in the kitchen and talking to people all day. Being a food truck owner is so much more than that. Likewise, so many aspiring writers look at Hemingway and they think being a writer sounds awesome as a result. Spoiler alert: Writing is hard, especially when it comes to actually selling books and making a living off of your craft. You might have a lot of flexibility in your schedule, but the actual act of writing can drive a man insane.
So can owning a business.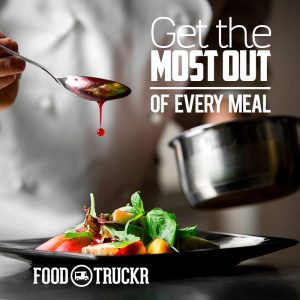 About to join the food truck industry? If so, then make sure to check out the How to Start a Food Truck: The Definitive Guide.
Looking for Food Trucks For Sale? Check out this link for more details!
Don't just become something because it sounds amazing on paper. Do your research and actually see what it takes to become a food truck owner. Literally ask food truck owners what their daily schedules look like. It isn't all fun and games; however, it is a very rewarding and fulfilling profession if it is truly what you want to do.
Therefore, we will leave you with this once more: Become a food truck owner because it's your dream, not because it sounds good on paper.
RELATED: 3 Questions Successful Food Truck Chefs Must Answer
If you liked this article, then we encourage you to share your feedback, advice, questions and/or stories below!
Looking to build a new custom food truck? Check out this link for more details!
To dig your teeth into what FoodTruckr has to offer, make sure to like us on Facebook and follow us on Twitter, and also make sure to check out more content that we bring to the table.
There is no ads to display, Please add some