Whether food truck business owners want to accept it or not (some food truck owners love social media, and others despise it), social media is an invaluable ingredient in the mobile kitchen industry.
Therefore, whether you plan on running your social media networks or not (you could always hire an expert, or have someone on your team — preferably someone who knows what he/she is doing — run your social media accounts), it is something that has to be done.
In the spirit of social media being a must-have ingredient for food trucks, we are about to unleash everything FoodTruckr has ever published relating to social media. We will include links as well as a small preview for each article.
We hope the information that follows can help you take your food truck business to the next level!
Everything FoodTruckr Has Ever Published Relating To Social Media
Sign up to receive the FoodTruckr Newsletter and we'll throw in our free guide: 6 Free Social Media Tools to Get People Talking About Your Food Truck.
3 Reasons Why Your Food Truck Business Has To Have A Facebook Account
"If you own a food truck and have gone this long without starting a Facebook account, then you have to join the times immediately. After all, a Facebook account can help grow your food truck business — there are no secrets."
Business Bites: Better Social Media Tracking, Measuring Customer Happiness, and Loyalty Programs That Work
"Welcome back to another Business Bites, our rundown of the most useful business tips we've encountered in the past week."
How to Run a Food Truck 19: Promote Your Truck Through Yelp
"Today, we're excited to kick off this unit with a topic that we've never discussed in-depth on FoodTruckr before—Yelp reviews! In today's all-new lesson, we'll go over everything from how to get people to review your truck to the best way to handle negative reviews by examining what you should and shouldn't do on Yelp.  Let's get started!"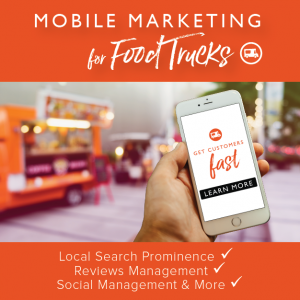 2 Effective Ways Food Truck Owners Can Boost Their Social Media Game
"It's okay if you aren't a social media guru. Likewise, it's okay if you don't want to spend all of your free time trying to come up with a social media strategy that will benefit your food truck business in the short-term and long-term."
How to Run a Food Truck 20: Improve Your Social Media Outreach
"Ready to make your social media outreach work better for you? Then let's get started by looking at what you should be doing with Facebook and Twitter on a daily and weekly basis below!"
3 Reasons Why Your Food Truck Business Should Hire A Social Media Expert
"Is it finally time to hire a social media expert at your food truck business? If so, just know this: You are not alone. So many business owners in the food truck industry (and beyond) are hiring people to come in and take care of their social media efforts. In every way imaginable, it is an all-star move."
Looking for Food Trucks For Sale? Check out this link for more details!
Facebook vs Twitter: Which Platform Do Food Trucks Use Most?
"Stress much about social media? You're not alone. The platform choices are endless. And deciding what to post and when is enough to drive anyone batty. Food truck owners have a harder go than the average social media user because so much of their businesses rely on customer outreach and engagement through social channels."
Everything You Need To Know About FoodTruckr's 'I'm A FoodTruckr' Facebook Group
"Have you always wanted to break into the food truck industry? Perhaps you already have in a big way and you currently own and operate your own mobile kitchen, but you could still use advice in many key areas. If this sounds like you, then FoodTruckr likely has you covered, and can provide you with more information on how to meet all of your food truck needs."
FS004- Best Practices for Sharing Your Location and Using Social Media with Matt Berkland from Truckily.com
"In this episode of FoodTruckr School, we talk with Matt Berkland from Truckily.com about best practices and tips for sharing your location on social media."
These Social Media Tips Are Perfect For New Food Truck Business Owners
"Yes, things such as setting up a menu, having enough employees and serving up otherworldly recipes are king in this industry, but owning a food truck business is much more than that, which is why these social media tips are perfect for new mobile food truck owners who are just breaking into the business."
Looking to take your food truck business to the next level? If so, then The Food Truck Growth Kit has your name written all over it!

How to Run a Food Truck 04: Use Apps to Simplify Your Business
"Fortunately, FoodTruckr is here to help some of your most time-consuming tasks run a little smoother and to find new ways to increase your efficiency. We've talked about some of our favorite products for business owners before, but in today's post, we've got a whole suite of apps designed to simplify your life as a food truck owner. They're organized into categories below. Let's check out what's on the menu!"
Food Truck Owners Should Include Live Streaming Into Their Social Media Strategies
"Live streaming, in a nutshell, is when a person records something and then this person's followers/fans watch while the recording/video is taking place. It is literally live streaming. The best part? Live streaming is easy to use, it is free on platforms like Facebook and it is trending right now."
Three Keys to Building Food Truck Super-Fans
"We know quite a few food truck super-fans. To shed light on the loves and habits of such adoring food truck foodies, we polled them about what keeps them going back to their favorite trucks time after time. Their insights may just be the boost of clarity and confidence you need to take your food truck business to the next level."
If you liked this article, then we encourage you to share your feedback, advice, questions and/or stories below!
Looking to build a new custom food truck? Check out this link for more details!
To dig your teeth into what FoodTruckr has to offer, make sure to like us on Facebook and follow us on Twitter, and also make sure to check out more content that we bring to the table.
There is no ads to display, Please add some