You might have noticed it by now and you might have not, but food trucks are becoming more and more popular by the day. They are literally sprouting up all across America — and no one seems to be complaining!
Food trucks are becoming so popular that they can even be seen at major events, such as parades, festivals, concerts, etc. Heck, you will even find mobile kitchens at weddings nowadays! In fact, food truck weddings are becoming more and more popular, and in Flashback Friday fashion, we are going to break that down for you in further detail.
Today, we are going all the way back to Sept. 30, 2016, which is a day when FoodTruckr released an article mapping out the increase of food truck weddings. Spoiler alert: Since that date, food truck weddings have increased even more in popularity!
Nonetheless, in Flashback Friday fashion, let's go back in time (preview and link to the actual article will be found below)!
Flashback Friday: A Look Back At Why Food Truck Weddings Are Becoming So Popular
Sign up to receive the FoodTruckr Newsletter and we'll throw in our free guide: 6 Free Social Media Tools to Get People Talking About Your Food Truck.
"Have you ever imagined having your wedding catered by a food truck? Heck, maybe that is some people's dream. Dream or not, more and more couples are getting their weddings catered by mobile catering trucks. When you think about how great food truck food is, and the amount of money you could be saving, it really is a no-brainer.

"While some folks might be wondering if weddings being catered by food trucks is just a trend, these same folks should be pondering this question: Is saving money a trend? Realistically, getting a wedding catered by a mobile kitchen is a smart option, because of the money factor alone.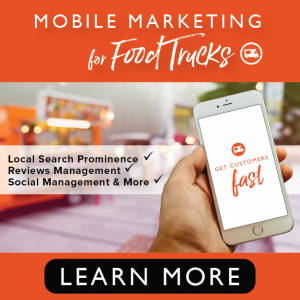 If you are about to join the food truck industry, then make sure to check out the How to Start a Food Truck: The Definitive Guide.
"According to foodrevolt.com, hiring a food truck could save a couple around $3,500. If you could save $3,500 (yes, $3,500!), why wouldn't you? That money could go toward the honeymoon, or it could simply stay in the bank. Nonetheless, that is a lot of dough.

"Here's the logic they used for that one:

""The average American wedding is running about $66 dollars per guest for reception catering so if you're running the average number of guests, then you're looking at around $8,844 in spend.  You should be able to negotiate $20 a guest for the night which would put you at $5,360 for two trucks…saving you around $3,500 bucks!"
"So, if you think saving money is a trend, then, sure, maybe food-truck-catered weddings are also a trend.

"The best part about the food truck industry — well, one of the best parts, that is — is the fact that there is so much variety. When thinking of a lunch truck, most people probably think of the traditional hot dog stand, or a taco truck, but there are so many unique concepts that also call the food truck industry home. Heck, the crazier the meal, the better. By the way, there is nothing wrong with hot dog stands or taco trucks — we 100 percent support them and the delicious food they have to offer.

"As foodrevolt.com points out, a good wedding is all about setting the mood, and a lunch truck completely helps out in the ambiance department. Getting a food truck to cater a wedding is considered cool nowadays, and it can also display to the guests that the act of a wedding is a celebration — and people should have fun at celebrations, and weddings."
To read the entire article, make sure to follow this link!
Food trucks provide great catering services for weddings — it's really that simple. As a result, it would not be a surprise if food truck weddings became even more popular over the years!
RELATED: How To Maximize Your Food Truck Revenue In The Mobile Kitchen Industry

If you liked this article, then we encourage you to share your feedback, advice, questions and/or stories below!
Looking to build a new custom food truck? Check out this link for more details!
To dig your teeth into what FoodTruckr has to offer, make sure to like us on Facebook and follow us on Twitter, and also make sure to check out more content that we bring to the table.
There is no ads to display, Please add some