On Feb. 12, 2014, an article was published on FoodTruckr with the title of How to Start a Food Truck 06: Find Prime Parking. In Flashback Friday fashion, we will be revisiting that article today.
Just think back to how tough it was to find a prime location for your food truck business in the beginning (this process is still a challenge for many owners). While it might have been a walk in the park for some, so many owners struggle with this step. After all, not only do you have to follow laws/rules/regulations but you also have to pick a location/spot/destination that isn't already taken. It can be quite the feat, really.
This is still a problem/concept that is going on today, which is why we decided to flash back to this awesome article that was published way back in 2014.
Here's what you can expect to find in the article:
Types of parking laws you will face
The top places to park your food truck
Finding your prime spot
Whether you are new to the food truck industry or are just looking for a new prime spot, this article should do you wonders.
Now, before we give out the link, we are going to drop a small preview from the article just to give you a little taste. Check it out below, and good luck finding your prime parking in this wonderful industry!
Flashback Friday: Finding Prime Parking In The Food Truck Industry
Sign up to receive the FoodTruckr Newsletter and we'll throw in our free guide: 6 Free Social Media Tools to Get People Talking About Your Food Truck.
How to Start a Food Truck 06: Find Prime Parking
"Last week's chapter of "How to Start a Food Truck" marked the start of our research unit as we began discussing how to learn about food truck laws and restrictions in your area. Let's be honest—that was a big post. We covered everything from the questions you need to ask ("How big can your truck be? Where can you park? How long can you sell?") to where you should go to find the answers (Food truck associations! Your local chapter of the Small Business Administration! FoodTruckr.com!).

"Now, if you've already gotten started on the research from that chapter, you probably have a much better idea of whether or not a food truck is really a viable business option for your city. Assuming that your research confirmed the viability of a food truck business in your area and you want to keep learning how to start a food truck, we're going to move on to the next topic in this section—finding prime parking opportunities for your food truck all around town!

"Don't worry if you haven't finished all of the research from last week's chapter yet! There was a lot to cover, and you can continue to look for the answers you need as you move on to the rest of the "How to Start a Food Truck" series. In fact, this week's lesson ties in very closely to the research you've been doing. After all, a great parking spot is essential to your success as a food truck owner—so you're going to need to make sure that you can find one in order to determine whether or not your food truck dream is really practical."
Make sure to follow this link to read the entire article.
Looking for Food Trucks For Sale? Check out this link for more details!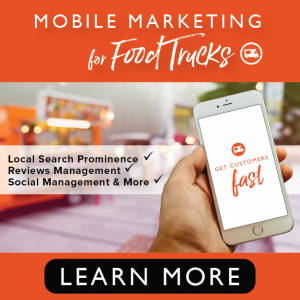 Looking to take your food truck business to the next level? If so, then The Food Truck Growth Kit has your name written all over it!
RELATED: 2 Simple Yet Effective Ways To Gain More Exposure At Your Food Truck
We hope this Flashback Friday article has been helpful for food truck owners. There are so many aspects to this industry. Sure, while most people (you know, folks who are on the outside looking in) likely think this industry is about cooking food and serving customers, there is so much more a food truck owner has to do — if said food truck owner plans on having a thriving business, that is.
If you liked this article, then we encourage you to share your feedback, advice, questions and/or stories below!
Looking to build a new custom food truck? Check out this link for more details!
To dig your teeth into what FoodTruckr has to offer, make sure to like us on Facebook and follow us on Twitter, and also make sure to check out more content that we bring to the table.
There is no ads to display, Please add some