While the actual food you serve at your mobile kitchen is rather important — it's your product, after all, and likely the thing you are most passionate about — customers are right up there when it comes to importance.
If you don't have any customers, then it doesn't matter if you have the best recipes in the world, because you won't have anyone to sell your meals to. Likewise, if you don't satisfy your customers, then you likely won't retain them, and your reviews could take a hit as well.
So, for the purposes of this Flashback Friday article, we decided to focus in on a piece that is all about the customers. Better yet, it's about handling customer disputes at your business, and in Flashback Friday fashion, let's check out the article in question below.
Flashback Friday: Handling Customer Disputes At Your Mobile Kitchen
Sign up to receive the FoodTruckr Newsletter and we'll throw in our free guide: 6 Free Social Media Tools to Get People Talking About Your Food Truck.
How to Run a Food Truck 06: Handle Customer Disputes
Preview from the article: 
Last week on "How to Run a Food Truck," we covered one of the most important topics we've ever written about here on FoodTruckr—how to deliver excellent service to your customers. Good customer service is the foundation of every successful business, and our FEAST Experience model is the best way to ensure that you and your food truck team members consistently adhere to high service standards.

Satisfying your customers is the single-most valuable thing you can do as a business owner—but you also need to realize that not every customer will be happy with your food, your service, and what you have to offer. Though you shouldn't take their dissatisfaction personally, you should care deeply about how they feel and about whether or not you could have done something to serve them better. When a customer is unhappy, it's up to you to take charge of the situation and to do your best to resolve his or her complaint.

In today's all new lesson, we'll show you another convenient tool you can use to resolve customer complaints and to prevent similar situations from occurring in the future. It's called the LEARN model—and we think it's a great way to deal with unhappy customers and to reflect on any mistakes that were made.
Looking for Food Trucks For Sale? Check out this link for more details!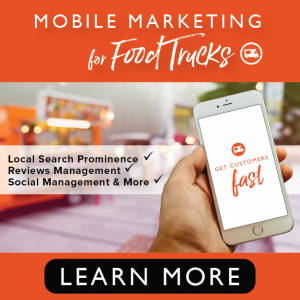 One more preview, if you will, before we unleash the link to the entire article.
1. Listen to the Problem

Sure, you'll hear about it when a customer has a problem—but are you really taking the time to listen to the customer's complaint?

When customers are upset about something they've experienced, they sometimes complain because they want a resolution—and they sometimes complain simply because they want someone in a position of authority to know what happened and to admit wrongdoing. In cases like these, the actual way you choose to fix the situation may not matter as much as the fact that you took the time to listen to what the customer had to say.

Here's an example:

A new fan, Alice, stops at your food truck for the first time. Alice doesn't have any food allergies, but she is trying out a new gluten-free diet and wants to know about the ingredients in your taco salad. She asks your team member, Bob, about how the beef in the salad is processed and if any of the other ingredients in the salad have gluten. He checks and lets her know that the meat is fine and wholly gluten-free, that the tortilla chip strips are made of corn, and that all of the other ingredients in the salad are natural and totally safe. Alice happily orders a salad and pays.

Everything seems fine when Bob hands Alice her salad, but she returns a few minutes later and she's upset. The southwestern dressing packet Bob handed her with the salad has an ingredient list on it, and as Alice says, "It has ingredients with gluten right here—if I hadn't glanced at it just to see how much sugar was in it, I would have eaten it because you told me all the ingredients were safe!"

Bob said he was sorry, but that didn't seem to be enough for her—Alice is still angry and is starting to make a scene in front of other customers. You come to the window to see what's going on and Bob relays the story to you. Sure, he gave her the wrong information—but since she's only on a gluten-free diet and doesn't have a food allergy, is it really that big of a deal?
To read the entire article, make sure to check out this link.
Looking to take your food truck business to the next level? If so, then The Food Truck Growth Kit has your name written all over it!
Always remember, FoodTruckrs, quality customer service is invaluable.
Want to learn how to build a subscriber list for your food truck business? One of our managing partners here at FoodTruckr has put together an AMAZING FREE GUIDE that will teach you everything you need to know about getting started with Messenger Marketing! Click here to get your free guide.
If you liked this article, then we encourage you to share your feedback, advice, questions and/or stories below!
Looking to build a new custom food truck? Check out this link for more details!
To dig your teeth into what FoodTruckr has to offer, make sure to like us on Facebook and follow us on Twitter, and also make sure to check out more content that we bring to the table.
There is no ads to display, Please add some