This week's edition of Flashback Friday is about to get frigid, because it takes us all the way back to Oct. 20, 2016, a day in which FoodTruckr interviewed a mobile kitchen that makes pizza in Alaska … year-round!
Wagner's Pizza Bus is not afraid of the cold weather, and that's a good thing for the customers. You know, since said customers can count on having amazing pizza at an amazing food truck location all year long. It doesn't matter how cold it gets, this food truck will still serve food to the masses.
Without further ado, let's take a look (in Flashback Friday fashion) at this article. As usual, a preview and link will be provided below.
Flashback Friday: This Food Truck Serves Up Pizza In Alaska Year-Round
Sign up to receive the FoodTruckr Newsletter and we'll throw in our free guide: 6 Free Social Media Tools to Get People Talking About Your Food Truck.
When thinking of where to start up a food truck business, most people would have places like California, Florida and New York in mind (among others). However, not many people would think of starting a mobile kitchen in Alaska, but that is exactly what Wagner's Pizza Bus has accomplished.

FoodTruckr had the pleasure of speaking with Mike Wagner of Wagner's Pizza Bus. If you are looking for an awesome story, then look no further than this amazing food bus, if you will. Wagner's Pizza Bus is located in Fairbanks, Alaska, and it is owned and operated by Michael and Diana Wagner. What makes this food truck so special? Well, for starters, it is located in Alaska … and it stays open year-round.
Can you imagine staying open year-round in Alaska? Mike Wagner surely can, and he is making that dream a reality on a yearly basis.
Looking for Food Trucks For Sale? Check out this link for more details!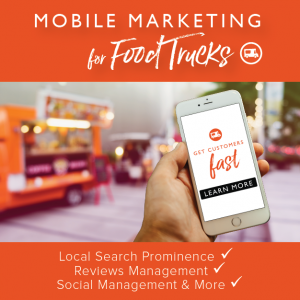 More from the Flashback Friday article mentioned above:
Fairbanks, Alaska gets extremely cold in the winter. However, that does not stop Wagner's Pizza Bus from serving up its delicious recipes. In fact, Wagner's Pizza Bus will even stay open when the temperatures drop to minus 30 degrees!

"We run year-round. Usually, in the summertime, we do events in town, in downtown Fairbanks… During the winter months, we set up in the little community that we live in, which is Two Rivers. And right now, we are actually set up on the edge of our property, which is a little bit off the main highway. We cater mostly to the locals in the wintertime. It's just easier for us. But yeah, we run year-round, even at 30 below."

"We have a 600 degree oven in there, plus a second source of heat, so it stays nice in there."
You can read the entire article by following this link.
What this story should teach anyone who is trying to conquer the food truck industry: Anything is possible as long as you're willing to put in the work. Wagner puts in the work and that has led to him staying open year-round in Alaska. Plus, he is serving amazing pizza/food on top of that.
Looking to take your food truck business to the next level? If so, then The Food Truck Growth Kit has your name written all over it!
You can be anything you want to be in this lifetime, but you have to be willing to put in the work. Overnight successes aren't typically a thing in the food truck industry. The owners of this industry spend so much time behind the scenes, if you will, trying to make their dreams come true. Of course, they also work at their food truck businesses nonstop. After all, 10-plus hours is a typical day at most food trucks.
RELATED: Chicago Food Trucks That Foodies Need To Try Immediately
Nonetheless, we hope this Flashback Friday article can inspire aspiring owners who don't think it's possible to succeed in this industry, no matter what the conditions might be.
Good luck making your dream come true!
Just remember: Anything is possible, especially in the food truck industry.
Are you currently doing any kind of email marketing or social media marketing? If so, then you should also be doing Facebook Messenger Marketing! Click here to find out more.
If you liked this article, then we encourage you to share your feedback, advice, questions and/or stories below!
Looking to build a new custom food truck? Check out this link for more details!
To dig your teeth into what FoodTruckr has to offer, make sure to like us on Facebook and follow us on Twitter, and also make sure to check out more content that we bring to the table.
There is no ads to display, Please add some