October 2017 came and went, but there are some things that remain, such as the informative food truck articles that were published during October.
In hopes of showing off some of the best articles from the previous month, we are going to feature the most viewed articles of October.
If you missed them for whatever reason, then you're going to want to check out every single article in hopes of gaining valuable information that could help you out at your food truck.
Check them out below!
Note: We will be providing the five most viewed articles from the month, and to show them off, we'll be providing a preview and link for each article.
Most Viewed FoodTruckr Articles Of October 2017
Sign up to receive the FoodTruckr Newsletter and we'll throw in our free guide: 6 Free Social Media Tools to Get People Talking About Your Food Truck.
Preview:
Whether food truck business owners want to accept it or not (some food truck owners love social media, and others despise it), social media is an invaluable ingredient in the mobile kitchen industry.

Therefore, whether you plan on running your social media networks or not (you could always hire an expert, or have someone on your team — preferably someone who knows what he/she is doing — run your social media accounts), it is something that has to be done.

In the spirit of social media being a must-have ingredient for food trucks, we are about to unleash everything FoodTruckr has ever published relating to social media. We will include links as well as a small preview for each article.
Preview: 
If you want to be the most successful version of yourself in the food truck industry, then you have to get your mind, body and soul right.

You need to have a positive outlook on everything, you have to love coming to work (and you should, since this is the dream you decided to chase), etc. If you are struggling in this industry for whatever reason when it comes to your mind, then you are in luck, because we are about to unleash five simple ways to get your mind right in the food truck industry.

So, the next time you are feeling down about work, or you aren't having as much fun as you should be having as a food truck owner, make sure to revisit this article in hopes of getting your mind right.
Looking for Food Trucks For Sale? Check out this link for more details!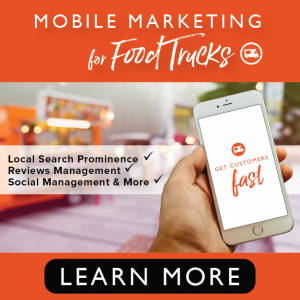 Preview:
Whether you want to hear it or not, setbacks are a part of life.

There is no way of getting around failure, and the same thing rings true in the food truck industry. The key is to not let this failure define you, and to move on as quickly as possible so minimal damage takes place.

Believe it or not, even the brightest minds in the world have failed. These people used failure as a stepping stone to success, and they likely wouldn't have achieved as much success in the first place if some form of setback(s) didn't occur.
Preview: 
There aren't enough hours in the day … or are there?

If you are a motivated business owner working in the food truck industry, then there are more than enough hours in the day to make all of your goals and dreams (or on a simpler scale, your tasks) come true, but you have to be willing to hustle now. Just remember: The more you hustle now, the less you will have to hustle in the future, or that is at least the idea.

Nonetheless, below you will find three ways to make more time in the food truck industry.
Looking to take your food truck business to the next level? If so, then The Food Truck Growth Kit has your name written all over it!
Preview:
How bad do you want to enter the food truck industry? How bad do you want to be a food truck owner, an owner who runs his/her own kitchen and makes the recipes of his/her dreams?

If you want something bad enough, such as owning your own food truck business, then you have to take real action. No one said it was going to be easy, but you need to stop the dreaming act and actually do, for a food truck owner can't be a dreamer alone … a food truck owner also has to be a doer.

With that in mind, if you want to join the food truck industry, then the three things below are going to help get you there.
If you liked this article, then we encourage you to share your feedback, advice, questions and/or stories below!
Looking to build a new custom food truck? Check out this link for more details!
To dig your teeth into what FoodTruckr has to offer, make sure to like us on Facebook and follow us on Twitter, and also make sure to check out more content that we bring to the table.
There is no ads to display, Please add some