Today I'm going to hit you with a couple quick articles, and then I'm going to dig deep into our App of the Week. This week's app is an intuitive intersection of time-saver and social media powerhouse.
Useful Reads
At FoodTrucker, we always favor food trucks over the big chain restaurants, but I do love Chipotle's latest designs for their paper cups and bags. This is a great example of taking advantage of every opportunity to reach and inspire the customer. How can you apply this idea to your business?
When your business is based out of a truck, you can spend a lot of time looking for reliable internet access. Lifehacker explains the pros and cons between buying a separate mobile hotspot versus just tethering your computer or tablet to your phone.
App of the Week
IFTTT.com stands for "If This, Then That." It's a tool that connects dozens of online tools like Twitter, Dropbox, WordPress, and teaches them all how to talk together. IFTTT recently released apps for both Android and iOS—and food truck owners everywhere should rejoice.
With the new apps, IFTTT has added both Android and iOS location channels, meaning that you can set up automations based on where you are. You can trigger actions, such as posting social media updates, when you have entered or left a particular area. When your business is mobile, it's incredibly important to keep your audience informed about your location. IFTTT has made that easy for us.
IFTTT calls each custom automation a recipe, and each recipe has two components:
The trigger, or the "if this" is happening,
The action, or the "then that."
Here's what a recipe looks like: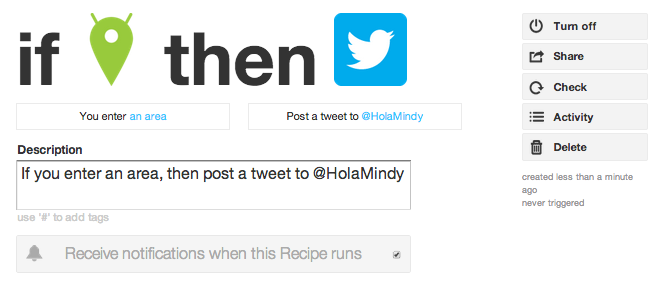 Let's look at this a little closer.
First, I need my trigger, or my "if this." In Minneapolis, there are frequently food trucks in front of the US Bank Building on 2nd Avenue and 6th Street S, so I'll make mine "if my location is near 2nd Ave and 6th St, Minneapolis, MN."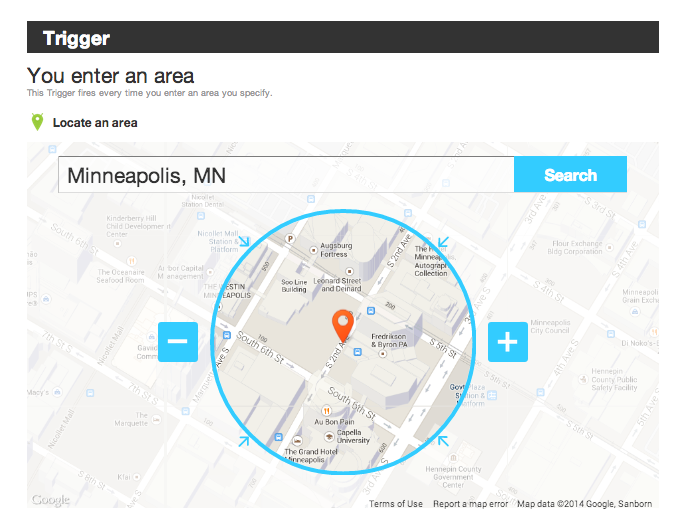 Next, I need my action, or my "then this" should happen. I want to post a tweet letting my fans know that my truck is open for business.

Now clearly, this shouldn't be my only tweet of the day, but what a relief to know that when I arrive at my location—and I have a dozen other tasks to do before I can open—that I don't have to think about sending a social media update too.
Everything in IFTTT is customizable. While my example used Android location updates and posting to Twitter, you could create your recipe for an iPhone posting an update to Facebook. You can create as many recipes as you want, so play around and see what works for you and your truck.
Play With Your Food
And finally, I'll leave you with a bit of fun. Food nerd extraordinaire Alton Brown is back with a YouTube series where he's sharing his tricks for leveling up in the kitchen. I don't know about you, but I want that grilled cheese sandwich!
###
Image from Pat (Cletch) Williams
There is no ads to display, Please add some