If you're ready to take your food truck business to new heights in 2018, then please proceed.
One of the best things people can do to gain more knowledge — and success — is reading. Just look at some of the brightest minds in the world, and one of the constants tends to be that all of these people read.
In the spirit of that thinking, we are about to unleash five articles below, and said five articles will help you take your food truck business to new heights in 2018.
Want to learn how to build a subscriber list for your food truck business? One of our managing partners here at FoodTruckr has put together an AMAZING FREE GUIDE that will teach you everything you need to know about getting started with Messenger Marketing! Click here to get your free guide.
Take Your Food Truck Business To New Heights In 2018 With These 5 Articles
Sign up to receive the FoodTruckr Newsletter and we'll throw in our free guide: 6 Free Social Media Tools to Get People Talking About Your Food Truck.
It's true that goals without deadlines/plans are more like dreams, but that is not the case for everyone. Some people create a goal — without a deadline/plan attached to it — and achieve it. Some people are wired that way. The point being, everyone is wired differently, so come up with a plan that works for you when it comes to your goals.

There are so many ways to approach goals in 2018. The key is doing what works for you, because you are the one who has to make this goal happen, and you are the one who has to live with it being achieved or not achieved — no one else.
Customer service is a big deal (as stated above), and it all starts with a happy food truck team. Yes, you are running a business here, but it would still be in your best interest to make sure your employees are having fun, or at least enjoying the work in some fashion. It's not your job to make your employees love their jobs, but it is your job to keep morale up, and to also be a good manager, boss and leader.

The happiness of your food truck team can't go unnoticed, and it all starts with you.
So many food truck owners are concerned with the food side of things, and that's only natural. After all, you likely joined this industry because you wanted to make a living as a chef. Plus, your No. 1 product is your food, so you know it has to be more than amazing every time you step foot in the kitchen and prepare a dish.

Unfortunately, there are many owners who fail in this industry because they don't know a thing about running a business, and that is where studying business owners and entrepreneurs comes into play. These types of people know what they are doing when it comes to business, and studying them can lead to you becoming more business savvy.
Looking for Food Trucks For Sale? Check out this link for more details!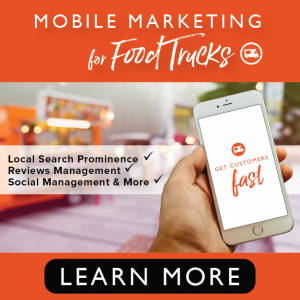 Now, while this is a little vague, because there are so many aspects to a food truck business, meaning there are so many daily tasks that a food truck owner has to do, you need to analyze your current situation and see how you can make it better (in other words, you need to see why you are losing focus, and how you can make it better).

Sometimes the fix is something as simple as dishing out a daily task to one of your employees, or taking a break via a vacation.
Looking to take your food truck business to the next level? If so, then The Food Truck Growth Kit has your name written all over it!
Whether you are new to the mobile kitchen industry or have an established food truck business, the two guides that follow (one is technically a kit) will give you the information/advice you need to crush your dreams.

We've included previews of the two articles below, and we encourage you to click on the links that will lead you to the How to Start a Food Truck: The Definitive Guide and the Food Truck Business Growth Kit. If someone you know is trying to break into the industry, or could use some help, then please feel free to share this article with them!
If you liked this article, then we encourage you to share your feedback, advice, questions and/or stories below!
Looking to build a new custom food truck? Check out this link for more details!
To dig your teeth into what FoodTruckr has to offer, make sure to like us on Facebook and follow us on Twitter, and also make sure to check out more content that we bring to the table.
There is no ads to display, Please add some