Everyone gets busy from time to time, and that's probably especially the case for food truck owners during the holiday season.
With that said, if you were too busy to check out our blog this past week, then we've got you covered. Below, you will find every article we published from the week prior.
Hopefully the information in these articles can help you and your business.
Are you currently doing any kind of email marketing or social media marketing? If so, then you should also be doing Facebook Messenger Marketing! Click here to find out more.
The Best FoodTruckr Advice For Mobile Kitchen Owners From Last Week: Dec. 11-17
Sign up to receive the FoodTruckr Newsletter and we'll throw in our free guide: 6 Free Social Media Tools to Get People Talking About Your Food Truck.
If you were too busy to read up on food truck advice/information last week, then you came to the right place.
Make sure to use the strategies wherever you see fit, and we hope the information can give you the motivation and advice you need to create some serious momentum around your food truck — not just for the end of 2017 but the start of 2018 as well.
There are people who, instead of making goals, like to create habits, and then work on those habits throughout the year. For example, if someone wanted to write a 60,000-word book, but said someone doesn't write that much in the first place, or always breaks his/her writing commitments, then it would be better to just build a habit of writing as opposed to making the goal 60,000 words. In time, the work will get done, and this person in question will have built the habit that is writing on a daily/weekly basis.
Looking for Food Trucks For Sale? Check out this link for more details!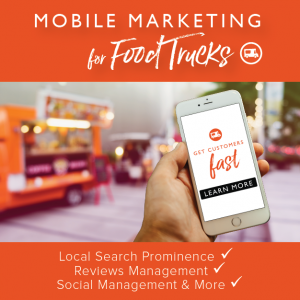 In hopes of celebrating the holiday season the right way, and also doing one epic Throwback Thursday, we are about to show off every single article from that series.
We live in a day and age in which the internet is literally taking over the world, and that is a good thing when said internet is used properly.

For example, if you use it to help your business, like so many food truck owners are already doing, then it is a huge benefit, and can make a major impact. Taking this a step further for Flashback Friday, if you bring apps into the mix, then your food truck life could end up being that much easier. After all, apps can help to simplify things at your business.
Looking to take your food truck business to the next level? If so, then The Food Truck Growth Kit has your name written all over it!
We want food truck owners (aspiring and current alike) to look back on next year around this time of year and be so proud of everything they accomplished. However, we know that isn't going to happen unless FoodTruckrs put in the work. Doing the same things over and over again will simply lead to the same results — just as a friendly reminder.

That is why focusing on your habits and goals is the key, not just focusing on your goals. Your motivation for your goals is only going to last so long, and that is why many people say you need to add a deadline and make a plan for each and every goal. This plan is going to create your habits, and in no time said plan will become second nature.
Are you ready to give your goals everything you've got in the New Year, FoodTruckrs? If so, please continue.

While we know achieving goals isn't as easy as simply making them and coming up with a plan … we do think if you want to make something happen bad enough, then you can.

Things tend to happen and the road to success isn't always a clear path, but we just want to say this: Never give up.
If you liked this article, then we encourage you to share your feedback, advice, questions and/or stories below!
Looking to build a new custom food truck? Check out this link for more details!
To dig your teeth into what FoodTruckr has to offer, make sure to like us on Facebook and follow us on Twitter, and also make sure to check out more content that we bring to the table.
There is no ads to display, Please add some