If you are looking to start your week off with a full serving of advice, then you came to the right place.
Below, we will be dishing out a preview and link to every single article published at FoodTruckr last week. So, if you missed any of the articles for whatever reason, then now's the time to catch up, and gain some new strategies in the process.
Good luck this week, and we hope the information below can help you take the next step with your food truck business.
The Best FoodTruckr Advice For Mobile Kitchen Owners From Last Week: Jan. 22-28
Sign up to receive the FoodTruckr Newsletter and we'll throw in our free guide: 6 Free Social Media Tools to Get People Talking About Your Food Truck.
Preview:
Every Monday, we like to give food truck owners a full serving of advice, and we do that by dishing out every single article from the week prior.

So, with that said, below you will find every article from last week.

We hope this information can help you get the week started on a strong note, and can also help you take your food truck business to the next level.
Preview:
The life of a food truck owner can be a rather busy one.

After all, there are plenty of food truck owners who put in 60-plus hours a week at their food trucks (or they spend that many hours working on their businesses).

Everyday life in the mobile kitchen industry is what you make of it. If you love everything about this industry, then you probably love it; however, that doesn't mean it won't be stressful from time to time, especially since this industry is so competitive, and since your job features more than cooking.
Preview:
What do we mean by this? It's pretty simple. Treat every meal like it's the most important meal you will ever cook. Cook with passion, cook with love.

Lines get packed and the daily grind can get in the way, but you entered this industry to do the thing you love most, which is cook food, so do just that. We understand you are going to be rushed from time to time, and some of your customers might get antsy if they are waiting for a long period of time on their food, but do your best to make the best meal you can possibly make.
Preview:
Whether you are planning on becoming a food truck owner in the near future, or are just looking to conquer this industry this year, our hope is that the two articles below can help you out along the way. No matter what your journey consists of, you can make all of your goals and dreams come true. You just have to come up with a great plan, be adaptable and also be willing to put in the work.
Looking for Food Trucks For Sale? Check out this link for more details!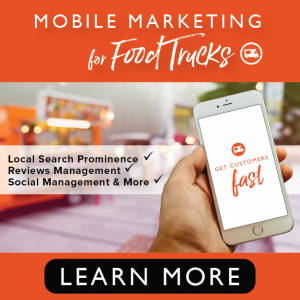 Preview:
As a result of it being Friday, we are going to venture back in time for yet another edition of Flashback Friday here at FoodTruckr.

Before dishing out a preview and the link to the Flashback Friday piece, we want to leave you with this question: Have you written the recipe for future success?
Preview:
As an example, let's say you want to do more catering gigs … but you are hesitant to do so because you might not think now is the time to dabble in that journey. While catering gigs aren't the ultimate answer in the food truck industry, we like to recommend them because they provide another source of income and they help food truck owners branch out, which could lead to even more money and customers. So, instead of being hesitant when it comes to catering, double your efforts in this area. This will get you familiar with the process, and you will surely learn from your mistakes and successes after each catering gig.
Looking to take your food truck business to the next level? If so, then The Food Truck Growth Kit has your name written all over it!
Preview:
7.) On The Other Hand, Delegate So You Have More Time: Are you exhausted day after day because your life consists of you going nonstop at your food truck business? Well, if you have the means to do so (and the employees), then start delegating your work. This could, of course, lead to you doing less at your truck (or at least having less tasks), which could allow you to focus in on more important tasks, or you simply being able to take it easy during the day since it will ideally be less chaotic.
Want to learn how to build a subscriber list for your food truck business? One of our managing partners here at FoodTruckr has put together an AMAZING FREE GUIDE that will teach you everything you need to know about getting started with Messenger Marketing! Click here to get your free guide.
If you liked this article, then we encourage you to share your feedback, advice, questions and/or stories below!
Looking to build a new custom food truck? Check out this link for more details!
To dig your teeth into what FoodTruckr has to offer, make sure to like us on Facebook and follow us on Twitter, and also make sure to check out more content that we bring to the table.
There is no ads to display, Please add some