If you can believe it … Thanksgiving is almost among us.
Yes, another week came and went here at FoodTruckr, and it is already Nov. 19.
In hopes of summarizing the week we just had in style, we are going to show off every article that was published at FoodTruckr last week.
Make sure to check out each preview below, and then take it to the next level by clicking on every link so you can sink your teeth into all of the advice that was dished out in the articles from the week prior.
The Best FoodTruckr Advice For Mobile Kitchen Owners From Last Week: Nov. 13-18
Sign up to receive the FoodTruckr Newsletter and we'll throw in our free guide: 6 Free Social Media Tools to Get People Talking About Your Food Truck.
Preview:
With 2017 winding down, many food truck owners — and people in general — are already looking forward to 2018.

It's only natural. After all, a new year (in this case, 2018) tends to hold so much hope. Anything is possible in a new year, which is why so much magic tends to surround New Year's Eve on a yearly basis.

With all of that said, we encourage you to finish 2017 on a strong note, a strong note that features you achieving all of your goals. Therefore, we are going to provide food truck owners with 15 motivational quotes, quotes that will ideally keep you inspired and motivated now until 2017 is in the books.
Preview:
Entrepreneurs are risk-takers, and they know that if they really want to make their dreams come true, then they have to put in the work.

Food truck entrepreneurs are no different.

They see this amazing life that features them running their own business (and cooking food for a living), and they want nothing more than to be part of said life.

If you can relate to that, and if you can relate to the signs below, then you were built for food truck entrepreneurship.
Looking for Food Trucks For Sale? Check out this link for more details!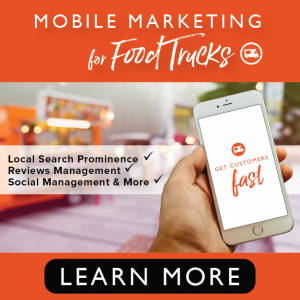 Preview:
With 2018 right around the corner (can you believe it's already Nov. 15?!), we decided to dish out a special treat for food truck owners for this week's edition of Throwback Thursday.

Below, we will be providing articles that revolve around goals for food truck owners.

Here's the deal: 'Tis the season to make new goals for 2018.

Yes, you want to finish off this year strong and check off all of your 2017 goals, but it's never too early to look forward to a new year.
Preview:
Do you fancy yourself an entrepreneur?

Well, if you risked your own money to start up a food truck business … then you are an entrepreneur.

With that said, we plan on providing an overwhelming amount of advice on this fine Flashback Friday in the form of tips for food truck owners and entrepreneurs alike. This information is going to come in the form of previous articles published right here at FoodTruckr, so make sure you click on the links below after reading the previews.

Your food truck entrepreneur game will definitely receive a serious boost as a result.
Preview:
We have some very exciting news for FoodTruckrs (and the food truck industry in general).

Jeremy Adams, co-founder of Prestige Food Trucks, was featured in Forbes' 30 Under 30 list in Manufacturing and Industry.

If that name sounds familiar, that's probably because it is. Adams routinely writes content at FoodTruckr.com. Plus, his company, Prestige Food Trucks, which was started in 2012, is a premier destination for high-quality — and custom built — food trucks, and they also teamed up with Custom Concessions, another food truck and trailer manufacturer, in the recent past.
Looking to take your food truck business to the next level? If so, then The Food Truck Growth Kit has your name written all over it!
Preview:
Thanksgiving is going down in the upcoming week, and we have so much to be thankful for in the food truck industry.

After all, this fine industry is making it possible for so many people to follow their dreams. Plus, it is a very friendly industry, and it is constantly making so many people happy thanks to the simple fact that everyone loves food.

With all of that said, the end of the year is nearing fast, and we wanted to focus in on three ways to see extra success now until 2018 in the food truck industry as a result.
If you liked this article, then we encourage you to share your feedback, advice, questions and/or stories below!
Looking to build a new custom food truck? Check out this link for more details!
To dig your teeth into what FoodTruckr has to offer, make sure to like us on Facebook and follow us on Twitter, and also make sure to check out more content that we bring to the table.
There is no ads to display, Please add some