We hope everyone had a wonderful Thanksgiving, and week in general!
With that said, since it was likely such a busy week for you, we decided to help out in a big way, which is why we are going to be putting every article we published last week in one place — below.
If you missed any of our articles from the week prior, then fear not, because we have you more than covered.
Good luck in the upcoming week, FoodTruckrs.
Note: A preview will be provided for each article as well as the link.
The Best FoodTruckr Advice For Mobile Kitchen Owners From Last Week: Nov. 19-25
Sign up to receive the FoodTruckr Newsletter and we'll throw in our free guide: 6 Free Social Media Tools to Get People Talking About Your Food Truck.
Preview: "In hopes of summarizing the week we just had in style, we are going to show off every article that was published at FoodTruckr last week."
Preview: "This one is so much easier said than done. After all, if you are too lenient, then your employees will take advantage of you; however, if you are too strict, then they won't like you — it's really that simple. Finding the perfect combination will lead to your employees not only respecting you … but it will also lead to them being able to have a good time at work."
Preview: "So many food truck owners are concerned with the food side of things, and that's only natural. After all, you likely joined this industry because you wanted to make a living as a chef. Plus, your No. 1 product is your food, so you know it has to be more than amazing every time you step foot in the kitchen and prepare a dish."
Looking for Food Trucks For Sale? Check out this link for more details!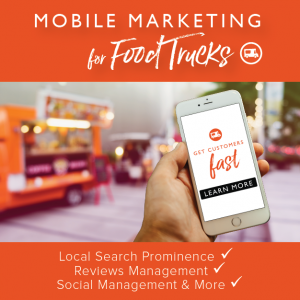 Preview: "You simply will not be the same person two months from now after consciously giving thanks each day for the abundance that exists in your life. And you will have set in motion an ancient spiritual law: the more you have and are grateful for, the more will be given you." — Sarah Ban Breathnach
Preview: "There is so much to be thankful for in the food truck industry, and in hopes of showing that off for this double feature — you know, because not only is it Throwback Thursday here at FoodTruckr … but it is Thanksgiving as well — we are about to unleash an article that is all about being thankful."
Preview: "Below, we will be flashing back to two articles that will do you wonders in the catering department. The first article, Building Your Catering Business: How to Work with Event Professionals, is, of course, all about building your catering side of the business. The second article, Growing Your Catering Business: How to Meet More Event Professionals, is all about growing this business."
Looking to take your food truck business to the next level? If so, then The Food Truck Growth Kit has your name written all over it!
Preview: "While all of your employees are not going to share the same passions as you (for example, while your food truck is your dream, it might not be anything more than another job to an employee), you still need to make sure they are happy while they are working at your food truck.
"Customer service is a big deal (as stated above), and it all starts with a happy food truck team. Yes, you are running a business here, but it would still be in your best interest to make sure your employees are having fun, or at least enjoying the work in some fashion. It's not your job to make your employees love their jobs, but it is your job to keep morale up, and to also be a good manager, boss and leader."
Are you currently doing any kind of email marketing or social media marketing? If so, then you should also be doing Facebook Messenger Marketing! Click here to find out more.
If you liked this article, then we encourage you to share your feedback, advice, questions and/or stories below!
Looking to build a new custom food truck? Check out this link for more details!
To dig your teeth into what FoodTruckr has to offer, make sure to like us on Facebook and follow us on Twitter, and also make sure to check out more content that we bring to the table.
There is no ads to display, Please add some