In hopes of starting off October the right way, we want to give you as much information as possible in the form of articles published at FoodTruckr from last week.
Our hope is that this information can help you take your food truck business to the next level — and then some.
Make sure to check out the previews below, click on the links and then apply the information to your food truck business — well, at least where you see fit.
The Best FoodTruckr Advice For Mobile Kitchen Owners From Last Week: Sept. 25-Oct. 1
Sign up to receive the FoodTruckr Newsletter and we'll throw in our free guide: 6 Free Social Media Tools to Get People Talking About Your Food Truck.
Monday, Sept. 25: Monday Motivation: Inspiring Quotes For Food Truck Owners
Sneak Peek: "As a result of it being Monday, we decided to do a #MondayMotivation piece that revolves around inspiring quotes for food truck owners. Hopefully one (or all) of these quotes can give you the motivation you need to hit the ground running this week. We want you to achieve all of your goals and dreams, and we know how important of an ingredient motivation can be."
Tuesday, Sept. 26: Breakfast Food Truck Items That Will Turn You Into A Morning Person
Sneak Peek: "We are about to unleash some breakfast food truck items, if you will, that will make you become a morning person. If you live near one of these trucks, then make sure to order one of these breakfast meals ASAP. If you don't, then make sure to book a trip and then venture to one of these trucks. Your morning mood will get a serious boost — trust us."
Looking for Food Trucks For Sale? Check out this link for more details!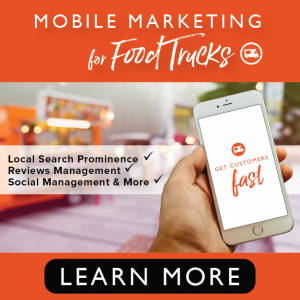 Wednesday, Sept. 27: Florida Food Trucks That Foodies Need To Try Immediately
Sneak Peek: "With that, we will say this: There are so many food trucks in Florida, so only picking three is quite the feat. Nonetheless, if you live in Florida, or plan on visiting in the near future, you need to sink your teeth into the three food trucks below. Your taste buds will certainly thank you."
Thursday, Sept. 28: Throwback Thursday: Timeless Business Lessons For Food Truck Owners
Sneak Peek: "You see, if you really want to make it in this grand industry, then you need to know the ins and outs of running a business, for starters. While your food is your product, and it's going to do the most talking/luring, you still are running a business here, and you need to know certain practices if you are going to be a success."
Looking to take your food truck business to the next level? If so, then The Food Truck Growth Kit has your name written all over it!
Friday, Sept. 29: Flashback Friday: A Look Back At FoodTruckr's First Article Of 2017
Sneak Peek: "Now, while it is ideal to be a dreamer and a doer — because then you will have a vision and actually act upon it, in a nutshell — being a doer is very important. You can't simply be a dreamer if you plan on succeeding as a food truck owner. After all, you need to be taking action, implementing new strategies, cooking food for customers, etc."
Saturday, Sept. 30: Don't Make These Mistakes If You Are A Food Truck Business Owner
Sneak Peek: "The key is to limit the mistakes, and to also learn from them when you do make them. Of course, that's easier said than done, especially if you don't even know you are making a mistake in the first place. Yes, that's easy to do in this industry, because you are so focused on making food and serving customers, and other things tend to get placed on the back burner in the process."
Sunday, Oct. 1: How To Conquer Burnout In The Food Truck Industry
Sneak Peek: "Therefore, you better believe burnout exists in the food truck industry, an industry in which owners tend to work double-digit hours six to seven days a week. This is an industry in which vacations are few and far between — well, at least when you are first starting off, because you can hire someone to run the daily operations … eventually, and if you decide to go that route."
If you liked this article, then we encourage you to share your feedback, advice, questions and/or stories below!
Looking to build a new custom food truck? Check out this link for more details!
To dig your teeth into what FoodTruckr has to offer, make sure to like us on Facebook and follow us on Twitter, and also make sure to check out more content that we bring to the table.
There is no ads to display, Please add some