We have an extra special treat for FoodTruckrs on this week's edition of Throwback Thursday…
On Dec. 14, 2014, FoodTruckr started a series called — you guessed it — The 12 Days of FoodTruckr.
In hopes of celebrating the holiday season the right way, and also doing one epic Throwback Thursday, we are about to show off every single article from that series.
As is typically the case on Throwback Thursday at FoodTruckr, we will be providing the headline, preview and link for each article.
Enjoy!
Are you currently doing any kind of email marketing or social media marketing? If so, then you should also be doing Facebook Messenger Marketing! Click here to find out more.
Throwback Thursday: A Look Back At The 12 Days Of FoodTruckr
Sign up to receive the FoodTruckr Newsletter and we'll throw in our free guide: 6 Free Social Media Tools to Get People Talking About Your Food Truck.
That's right, FoodTruckrs. We're kicking The 12 Days of FoodTruckr off with a bang and offering a big discount on the one gift that we hope is at the top of all your lists this year: "How to Start a Food Truck: The Definitive Guide."
Food trucks are clearly the bread and butter of FoodTruckr (har, har), but we also love supporting people who are harnessing the power of the mobile movement to create their own unique business opportunities around the country. So today, in honor of the second day of FoodTruckr, we'd like to give you a quick peek at two super cool new types of trucks that are taking their services to the street.
In the spirit of giving, today's FoodTruckr post is here to help you give back to your own fans. All year long, your customers love and support you by visiting your truck, telling their friends about your delicious food, and following your pages on social media. Now is the perfect time to show your gratitude by giving away some extra bonuses for them to enjoy. Check out our three favorite promotional ideas below.
Yesterday's FoodTruckr post was all about ways to give back to your customers, but today's article is going to focus on strategies you can use to show your business a little extra love. For many small business owners, email marketing is one of the most confusing forms of online outreach—but it doesn't have to be! We believe FoodTruckrs all around the country could be getting a lot more value out of email marketing by following these four simple tips.
That's right, FoodTruckrs—today is one of our favorite days of The 12 Days of FoodTruckr, because we get the chance to share some of our favorite moments in podcasting with you. Check out five of the most entertaining and educational episodes from FoodTruckr School below.
If The 12 Days of FoodTruckr haven't already put you in a seasonal mood, then today's new post is just for you. Chances are good that the majority of your fans have the holidays on their minds. Whether you catch them when they're out shopping or when they're pining for a winter's treat during the middle of a long work day, you can attract more people to your truck by showing off your festive side. Here are six fun ways to get your food truck in the holiday spirit.
Looking for Food Trucks For Sale? Check out this link for more details!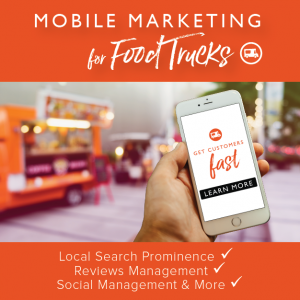 We're hoping today's new post will bring all of you who are getting ready to start your own food trucks a little inspiration. Though many aspiring food truck owners know exactly what they want to cook before they get started, we also hear from many of you who are still searching for the perfect idea. With that in mind, we thought we'd bring you a few new ideas today to help you get the creativity flowing. Grilled cheese trucks and dessert trucks are definitely all the rage (and will always be some of our absolute favorites!), but we'd also love to find some trucks specializing in these new cuisines.
With just a few more days until Christmas, today feels like a great time to honor some of our favorite FoodTruckrs—and to share some amazing dining options with all of you who are lucky enough to be in the same city as one of these trucks! This list is definitely not all-inclusive by any means (we could never pick just eight favorite food trucks!), but it is a quick look at some FoodTruckrs that are really doing great things. Check them out below.
Though most of your food truck's business is definitely taking place offline, it's still incredibly important for you to have a professional, easy-to-navigate web presence available online. Setting up a simple website doesn't take too much time, but it will make it easier for new customers to find you and will give current fans a convenient, easily accessible place to stay updated on the latest happenings with your truck. Here are nine important components every food truck website should include:
As a FoodTruckr, social media is almost certainly an integral part of your marketing strategy—and if it's not, it should be! That's why we're going to focus today on some specific posts you can use on Facebook and Twitter to keep your business going.
Looking to take your food truck business to the next level? If so, then The Food Truck Growth Kit has your name written all over it!
Happy Christmas Eve, FoodTruckrs! In honor of Day 11 of The 12 Days of FoodTruckr, we wanted to take a little bit of time today to look back at some of the most popular content we've posted. Many of our fans have told us that these articles were especially helpful to them and their businesses, and we hope that you'll find them just as useful. Read on to learn about 11 of your favorite articles from the archives:
Merry Christmas, FoodTruckrs! We've had such a great time celebrating the holidays with you, and we couldn't be more excited to bring you our twelfth and final post this morning.

Now, it's no secret that we love food trucks—but today, we wanted to go into a little more detail and explain exactly why something as simple as a restaurant on wheels is so very special. With that in mind, we're proud to present the 12 reasons we love food trucks!
If you liked this article, then we encourage you to share your feedback, advice, questions and/or stories below!
Looking to build a new custom food truck? Check out this link for more details!
To dig your teeth into what FoodTruckr has to offer, make sure to like us on Facebook and follow us on Twitter, and also make sure to check out more content that we bring to the table.
There is no ads to display, Please add some