If you want to continue your success, then your goals and dreams need to be ever-changing.
And by that, we mean this: You can't stop your goals and dreams at opening up a food truck business. What is the next step? Yes, you, of course, want to crush sales, gain customers and live comfortably from this profession, but you need to take those goals a step further — well, when those goals are achieved, that is, because you never want to rush the process when you don't need to.
Do you want to open up two food truck businesses in the future? How about a sit-down restaurant? Maybe you want to build a food truck dynasty and bring franchising into the mix?
Whether the case, and for the purposes of this Throwback Thursday article, we are going to look at expansion. Getting into more detail, we are going to go back in time to the date of May 20, 2015, a date when How to Run a Food Truck 26: Consider an Expansion was published at FoodTruckr.
Throwback Thursday: Consider A Food Truck Expansion
Sign up to receive the FoodTruckr Newsletter and we'll throw in our free guide: 6 Free Social Media Tools to Get People Talking About Your Food Truck.
How to Run a Food Truck 26: Consider an Expansion
Preview from the article:
Today is an exciting day here at FoodTruckr—we're wrapping up the "How to Run a Food Truck" series with a final lesson on one of the biggest undertakings a food truck owner can embark upon!

Before we get started though, we just want to take a minute to thank all of you for following along with this series and with the FoodTruckr blog. You've all worked so hard, and we're incredibly proud of everything you guys have accomplished—from all of the work you did when you were first learning how to start a food truck to the place you're at today. Over the past few months alone, you've continued onward as we went over how to train your employees, how to handle customer disputes, and what to do when you don't have enough customers. We've helped you prepare for health inspections, improve your social media outreach, and set goals for your truck's future. And today, we're going to take everything you've learned and put it together as we evaluate whether or not you're ready for your next big challenge.

We've focused a lot on growth and goals around here lately, and for many FoodTruckrs, the ultimate business goal is to expand their empire by opening another truck or a brick and mortar location. Taking on another truck or a physical location is a huge decision, and it's one that requires a lot of research, number-crunching, and soul-searching. In today's all-new lesson, we'll lead you through that process and help you determine whether or not an expansion is right for you.
Looking for Food Trucks For Sale? Check out this link for more details!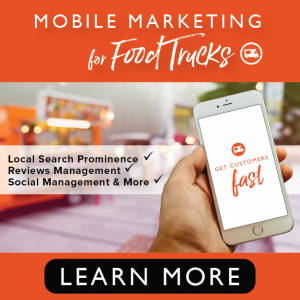 One more giveaway before we provide the link:
Number-Crunching: Is Now the Right Time?

Once you've done the research and decided whether or not you want to pursue opening a new food truck or a restaurant location, it's time to evaluate how viable this venture is by doing some number-crunching. Opening a new food truck and opening a new restaurant are both expensive prospects—so as you work out the financial aspects of your choice, be sure to consider both A.) whether or not you can really afford this path and B.) whether or not you can afford this path at this time.
Looking to take your food truck business to the next level? If so, then The Food Truck Growth Kit has your name written all over it!
Expansion is not for everyone. With that in mind, you always need to be enhancing your goals and dreams, especially when you achieve them. So, figure out what is next in terms of your goals, whether it is expansion, gaining more customers, finding new locations, making the ultimate food truck or whatever it might be.
Everyone's situation is different, but we do hope this Throwback Thursday article can help you out in a big way, especially if you are thinking about food truck expansion.
If you liked this article, then we encourage you to share your feedback, advice, questions and/or stories below!
Looking to build a new custom food truck? Check out this link for more details!
To dig your teeth into what FoodTruckr has to offer, make sure to like us on Facebook and follow us on Twitter, and also make sure to check out more content that we bring to the table.
There is no ads to display, Please add some