Another week, if you can believe it, of Throwback Thursday is among us.
For this week's edition, we wanted to talk about mobile apps, so we're going all the way back to Dec. 3, 2014, a day in which this article was published at FoodTruckr: Creating a Mobile App for Your Food Truck Business.
That begs the question … have you ever thought about creating a mobile app for your food truck? While it is not 100 percent necessary, especially when you are just getting started, it can help you take your business to the next level. Just think about how cool it would be if people ordered food — you know, from your truck — on a mobile app for your … truck. That's the dream!
Whether the case, and in Throwback Thursday fashion, let's go back in time and read about creating a mobile app for your mobile kitchen business.
As usual, a preview of the article and a link will be provided below.
Throwback Thursday: Creating A Mobile App For Your Food Truck
Sign up to receive the FoodTruckr Newsletter and we'll throw in our free guide: 6 Free Social Media Tools to Get People Talking About Your Food Truck.
Why create a mobile app for your food truck business? Mobile apps can help your business easily advertise and sell your products and services. Creating a social media presence with a mobile app will help your customers learn more about your business and help you grow your mobile food empire!

Entering the mobile market is simple and easy, with many mobile app creating platforms available to help you. No matter which website or app creator you choose, make sure that your app will be compatible with the major mobile platforms right now, Android, and iOS. This will ensure that your app can be viewed by the largest consumer base possible.
Intrigued yet? If not, you're in luck, because we are about to drop some important ingredients from the article in question.
Looking for Food Trucks For Sale? Check out this link for more details!
Now that you have decided on your app creator, how can you use your mobile app to grow your business and customer base? Always keep in touch with your mobile customers by keeping your app up-to-date. Let them know your address, contact details, current location, menu items, and more. Send frequent reminders about your food truck business's discounts, deals, and current menu offerings. Engage your customers with surveys that supply you with feedback, and offer winners and participants coupons, deals, and discounts for your business. Use location-based apps to offer deals to your consumer base when they are in your area of operation.

It may seem complicated to create mobile apps for your food truck business, but the benefits outweigh the difficulties. Mobile apps will help you tailor your business to your customers' needs, creating more brand loyalty. Your mobile app can allow you to tweak issues in your business and get immediate feedback from consumers. Mobile app creation doesn't have to be difficult or time-consuming, but it does need to be attractive to your customers and easy to use. Ultimately, keep in mind your customers, and make your app clean, simple to navigate, and user-friendly.
To read the entire article, make sure to follow this link.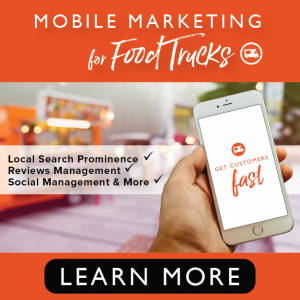 While a mobile app is not for everyone, and it's certainly not for every business, it could help your business in a big way.
Looking to take your food truck business to the next level? If so, then The Food Truck Growth Kit has your name written all over it!
If you missed some of our previous Throwback Thursday articles but would like to go back in time by checking them out, then look no further than below.
If you liked this article, then we encourage you to share your feedback, advice, questions and/or stories below!
Looking to build a new custom food truck? Check out this link for more details!
To dig your teeth into what FoodTruckr has to offer, make sure to like us on Facebook and follow us on Twitter, and also make sure to check out more content that we bring to the table.