For this week's edition of Throwback Thursday, we decided to talk about the main ingredient of a food truck business, which is, of course, the food.
Therefore, we are going all the way back to Jan. 15, 2014, so we can dive into the information that is in this article: How to Start a Food Truck 02: Decide What You'll Sell.
What do you want to sell, FoodTruckrs? What have you always wanted to cook? This should be an on-going question you ask yourself, because it should never be considered bad practice to add new meals to the menu every now and then in hopes of attracting more customers, and giving said customers another delicious option.
Nonetheless, let the Throwback Thursday fun begin…
Throwback Thursday: Decide What You'll Sell At Your Food Truck
Sign up to receive the FoodTruckr Newsletter and we'll throw in our free guide: 6 Free Social Media Tools to Get People Talking About Your Food Truck.
Preview from the article:
That's right—it's time to talk about how you make smart decisions regarding your food truck concept and menu!

Of course, deciding what you'll sell is another of the biggest business decisions you'll make. After all, your truck's concept and your menu will singlehandedly attract most of your business. You won't develop loyal fans simply by being a restaurant that's conveniently located on wheels—you'll build a passionate following by offering crazy-delicious food and something unique that customers can't find anywhere else.

That said, coming up with a concept for your truck and planning your menu should be pretty easy—because it should be based on the food you're passionate about making and the food you're passionate about eating. When you're truly in love with your concept, your care and commitment will shine through everything you prepare.
Looking for Food Trucks For Sale? Check out this link for more details!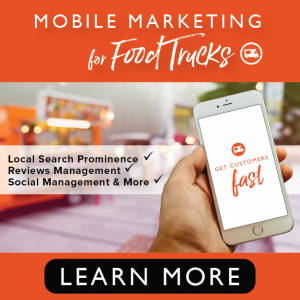 Diving a little deeper into this Throwback Thursday article:
1. Make a List of Everything You Want to Sell

First, let's start by making a list of everything you could possibly be interested in selling. That's right—we said everything. Now, some of you may already know exactly what your dream food truck would offer, but many of you are probably working with a more general picture of yourself cooking up delicious eats in a truck that can go around town and appear at events and catering gigs. No matter which point you're at in the process, go ahead and make this list.

Include everything that you would enjoy preparing for hordes of loyal customers—gourmet hot dogs, tasty specialty cupcakes, meaty burgers, Asian-fusion tacos, gooey cinnamon rolls and pastries, healthy smoothies, or vegan alternatives to traditional meals. Remember that you can start a food truck that focuses on nearly any type of cuisine you want. You can experiment with something exotic and unique that no one else serves (like The Boba Truck, a specialty tea shop with flavors ranging from Japan barley green milk tea to Valencia orange zest black tea), or you can take a tried and true classic and do it super well (like Peanut Butter Bar, a truck that's found a way to make plain old PB&J gourmet).

Now, take a closer look at everything you wrote down. Which items appeal to you the most? What kind of menu could you create from these main dishes and related sides? What will your signature dish be? Keep in mind that you'll be cooking a lot of the same things over and over again for loyal fans who expect to enjoy the same quality and consistency each time they return. Make sure to choose something that you won't get tired of preparing and that you know you can rock every time.
Looking to take your food truck business to the next level? If so, then The Food Truck Growth Kit has your name written all over it!
We really only touched the surface of this article, so make sure to follow this link to read the entire thing.
While it's best practice to stay within your food truck concept, it's okay to change up the menu from time to time, whether that is making a drastic change, or just adding a new side/item/meal.
Nonetheless, good luck this weekend, FoodTruckrs, and cook like you've never cooked before!
If you liked this article, then we encourage you to share your feedback, advice, questions and/or stories below!
Looking to build a new custom food truck? Check out this link for more details!
To dig your teeth into what FoodTruckr has to offer, make sure to like us on Facebook and follow us on Twitter, and also make sure to check out more content that we bring to the table.
There is no ads to display, Please add some