Do you stay up to date on all of the latest trends when it comes to the food truck industry, FoodTruckrs?
Not everyone does, but for the purposes of this Throwback Thursday article, we are going to go back in time to a piece that highlights food industry trends.
While you probably don't want to bounce around from one trend to another (perhaps you do, and that is completely fine if that is the route you decide to take), if a trend really takes off, then there is no harm in jumping on board.
Just take the pumpkin spice flavor trend during fall as an example. While this trend really took off with a pumpkin spice latte from Starbucks, the pumpkin spice flavor has completely taken off since then. After all, when fall rears its beautiful head (and sometimes even sooner than that), all of the latest pumpkin spice treats tend to take over. There is a reason why trends like this are so big, and that's because people love the pumpkin spice flavor.
Whether you plan on keeping up with trends like the one mentioned above because it is good for business, or you just want to give your customers something new in the form of a meal, the choice is yours. Keeping up with the times is never a bad thing, to say the least.
And now, before checking out the Throwback Thursday article by clicking on the link provided below, we will be dishing out a preview/sneak peek for the article in question.
You can check it out below, and good luck making all of your 2018 goals come true!
Throwback Thursday: Keep Up With Food Industry Trends
Sign up to receive the FoodTruckr Newsletter and we'll throw in our free guide: 6 Free Social Media Tools to Get People Talking About Your Food Truck.
How to Run a Food Truck 14: Keep Up with Industry Trends
Preview:
FoodTruckrs, those of you who have been following along with the "How to Run a Food Truck" series have done some amazing work over the past several months. You've done everything from getting your food truck team up and running to learning how to deliver excellent customer service to overcoming some major roadblocks on your journey to developing a successful food truck business. Way to go!

Now, the first half of this series focused on some important things you needed to do to get your business rolling, but now it's time to kick things up a notch. Over the next few months, we'll be talking about ways you can run your business better—starting with Unit 4, "Become a Better Business Owner." This section of lessons is dedicated especially to helping you improve your skills as a business owner, manager, and boss, and we think it's an important read for every FoodTruckr.

Today we want to kick this section of exciting lessons off with a topic that's near and dear to our hearts—the latest happenings and trends in the food truck industry. There are some truly awesome FoodTruckrs doing incredible things out there, and keeping up with their progress isn't just interesting and entertaining—it can also help you to better your own truck! Let's begin by examining some of the most effective ways to use industry trends to benefit your business, and then we'll look at some of the best places to stay abreast of new happenings.
Looking for Food Trucks For Sale? Check out this link for more details!
Another sneak peek of the article:
4. Anticipate What Customers Really Want

By its very nature, the food truck industry is full of trends—everything from the types of cuisine people are serving to the venues they're serving at to the simple fact that they're even serving from a truck is all influenced by popular culture and by the rise of food truck giants like Kogi and The Grilled Cheese Truck. So it only makes sense that in addition to getting creative, trying new things, and benefiting from the experiences of others, that you can also begin to predict what your customers really want by keeping an eye on the food truck industry's current trends.

This article on the recent Food Truck Frenzy at the Humana Challenge in La Quinta, CA, illustrates a few of the key things that today's food truck fan really wants: quality, creativity, variety, and convenience. People who were interviewed in the article use phrases like "[a food truck] means really interesting, cool food," "you have better choices," "for the person who wants to move around quickly," "something for everyone," and even "everything always tastes better off a food truck" to describe their experiences and thoughts on the festival.

Watching to see what fans are saying about their favorite food trucks—and what food truck owners say about what's most popular with their customers—is one of the best ways to predict what your own customers will most enjoy. Many food truck owners are in this business because they're passionate about their creations and love practicing their craft, but at the end of the day, your business is supported by your fans. Learn how to make them happy and you'll be the proud owner of a successful food truck business for many years to come.
Looking to take your food truck business to the next level? If so, then The Food Truck Growth Kit has your name written all over it!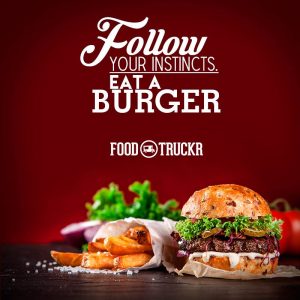 Final preview for the article in question:
6 Places to Look for Inspiration and Current Industry Trends

Now that you can see why staying on top of industry trends is so important for your food truck business, it's time to unveil a few of the best places to find your sources. The following spots are our six favorite places to look for inspiration and current industry trends.

1. Social Media

Social media is perhaps the first place you should begin looking to learn more about what other food truck owners are doing. Follow your favorite trucks, trucks in your city, and even popular and successful trucks in other cities on either Facebook or Twitter, and then begin to monitor your feeds to see what they're up to. It can be a little overwhelming to receive so much information at once, so be sure to scroll through your feed and look specifically only at photos or posts that jump out at you (the posts that you immediately notice are also likely to be the ones that food truck fans notice most readily). You can also check out individual food truck pages to get a more in-depth look at what's going on with their businesses and the current state of their trucks.
Are you currently doing any kind of email marketing or social media marketing? If so, then you should also be doing Facebook Messenger Marketing! Click here to find out more.
You can read the entire article here.
The key is figuring out new ways to attract, gain and retain customers, and also having fun in the process. Nonetheless, we hope this Throwback Thursday article can help you and your food truck business out in a big way.
As you will see from the linked article above, and the pumpkin spice flavor during the fall months, there are many different ways to follow the trends. Just make sure to follow whichever trends you see fit for your mobile kitchen business (you don't have to follow every single trend just for the sake of following them), whether it's adding a seasonal treat that is taking over the food scene, or following a strategy that other owners are currently incorporating.
No matter what the case might be, it's always important to keep track of what is going on in the food truck industry, and at fellow food trucks.
Haven't joined the food truck industry yet but plan on joining in the near future? If so, then we encourage you to check out the article below. After all, there are many different things you need to do before becoming a food truck owner, and the article below maps out three musts in that department.
3 Things You Must Do To Become A Food Truck Owner
Sneak Peek: "Not only do you have to put in the work to make your dreams come true, which could take years to happen, but you have to fight off the naysayers every step of the way … and stay just as passionate as you were the very first day you decided to embark on this journey. Plus, and especially if you want to become a food truck owner, you have to do everything above and come up with a ton of money to make your dream come true."
No matter how far along you are when it comes your food truck journey, we wish you nothing but the best!
Good luck, and keep on truckin'!
Want to learn how to build a subscriber list for your food truck business? One of our managing partners here at FoodTruckr has put together an AMAZING FREE GUIDE that will teach you everything you need to know about getting started with Messenger Marketing! Click here to get your free guide.
If you liked this article, then we encourage you to share your feedback, advice, questions and/or stories below!
Looking to build a new custom food truck? Check out this link for more details!
To dig your teeth into what FoodTruckr has to offer, make sure to like us on Facebook and follow us on Twitter, and also make sure to check out more content that we bring to the table.
There is no ads to display, Please add some