If you're thinking about joining the food truck industry, or are relatively new, then we have quite the Throwback Thursday treat for you.
For the purposes of this week's Throwback Thursday article, we are going to travel back in time to July 11, 2016. Many food truck owners (aspiring and current) are likely wondering why. Simple. On that day, FoodTruckr published an article that featured the How to Start a Food Truck: The Definitive Guide.
This guide, to say the least, can help you start up a successful food truck business. It is otherworldly in every sense of the word, and all aspiring/new food truck owners need to have one. After all, you have a million different things on your mind, and you also don't know the ins and outs of this industry yet (and if you do, that's awesome!). We are here to provide you with a ton of information to not only help you survive in the food truck industry but to thrive on top of that!
So, without further ado, we are about to drop a preview of the article as well as the link. Make sure to check it out so you can see how beneficial the How to Start a Food Truck: The Definitive Guide really is.
If you want to buy it outright, then you can follow this link.
Throwback Thursday: The How To Start A Food Truck Guide Is Still Changing The Game For Food Truck Owners
Sign up to receive the FoodTruckr Newsletter and we'll throw in our free guide: 6 Free Social Media Tools to Get People Talking About Your Food Truck.
The How To Start A Food Truck Guide Is A Serious Game-Changer For Future Food Truck Owners
"Let's face the facts: Most food truck businesses don't fail because of the recipes. Typically, the food is otherworldly and amazing chefs are flooding this industry. However, many owners enter this industry lacking a ton of knowledge. Not only do they not know how this industry operates and what it takes to grow, but they also don't know how to run a business in general. When you gain knowledge, you are limiting your downside risk and severely increasing your chances of finding success.

There is an endless amount of things a food truck owner has to think about. If a person thinks preparing menus and meals is the only thing that matters, then hopefully they don't buy a food truck in the first place — because that's just the beginning.

Things like zoning laws come into play. Things like health codes come into play. Things like being able to train employees, marketing skills, legal counseling and systematizing your day-to-day operations come into play."
Here are some other gems that you can expect to learn from this food truck guide.
"Define an attractive, memorable brand that comes alive offline in your truck wrap and food cartons as well as online through your website and social media profiles.

Establish your food truck as a legitimate business entity as well as secure other vital business requirements like permits, licenses, and insurance.

Understand the do's, don'ts, and best practices of writing a business plan that charts a course for growth and impresses financiers.

Calculate your profit margins and savings plan so that your truck becomes a business built to last.

Hone your instincts to make better business decisions, such as evaluating the advantages and disadvantages between food trucks and brick-and-mortar restaurants."
To check out the entire article, make sure to follow this link. You do not want to miss out on this all-star knowledge!
Looking for Food Trucks For Sale? Check out this link for more details!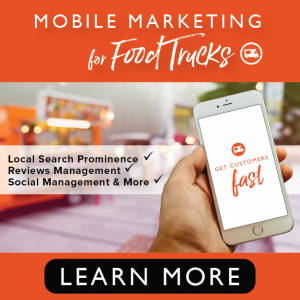 RELATED: 3 Basic Business Tips For Success In The Food Truck Industry
Now, if you have already joined the food truck industry and are currently battling it out, then you 100 percent want to get your hands on the Food Truck Business Growth Kit, and you can learn all about it here.
Nonetheless, good luck, FoodTruckrs! The mobile kitchen industry is providing the ultimate experience for so many different people, and it's also making it possible for people to turn their dreams into reality.
If you liked this article, then we encourage you to share your feedback, advice, questions and/or stories below!
Looking to build a new custom food truck? Check out this link for more details!
To dig your teeth into what FoodTruckr has to offer, make sure to like us on Facebook and follow us on Twitter, and also make sure to check out more content that we bring to the table.
There is no ads to display, Please add some