Editor's Note: Today we're excited to present a guest post from JSL Financial. JSL Financial specializes in providing hassle-free financing for small and medium sized businesses. You can find out more about JSL Financial by checking out their website.
Entering the food truck industry is not cheap.
Sure, many people opt to buy a mobile kitchen over opening up a sit-down restaurant for the simple fact that it is cheaper in the short-term and long-term, but that still doesn't mean it is cheap to buy a food truck. Not to mention, there are still plenty of risks. After all, you are having to use a ton of money to buy the food truck, and everything else that is needed to run a mobile catering business.
With that in mind, let's pose the question we have all been waiting for: Why could food truck owners use some startup capital?
Sign up to receive the FoodTruckr Newsletter and we'll throw in our free guide: 6 Free Social Media Tools to Get People Talking About Your Food Truck.
Simple. Startup capital alone could help you stay afloat in the food truck industry. Startup capital could help you buy the food truck, the food truck equipment, inventory, etc.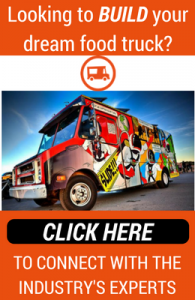 Startup capital is perfect for food truck owners who are struggling to pay for their food truck (food truck financing is a very valuable weapon if you are struggling with this problem), or simply don't have a year's worth of salary saved up. Once again, startup capital can help mobile kitchen owners stay afloat in this industry. It can help when it comes to paying employees, it can be used for marketing, it can be used for, well, anything that relates to your business, really.
This is not a get-rich-quick scheme, so you need a plan when it comes to your finances. How are you going to make enough money to pay employees, everything it takes to run a business and still have some money leftover to pay yourself? If you are struggling in any of those departments, then startup capital could help you have a smooth start.
With that in mind, it is essential that you have a plan to pay back the money, whether you receive it from a bank, an investor or friends/family.
RELATED: Why Food Truck Owners Can't Afford To Have Bad Customer Service. Bad customer service alone could sink a mobile kitchen business.
Startup capital is perfect for any food truck owner who simply needs help with money, whether it comes to something as extreme as purchasing a food truck and all of the equipment, or something more simple, such as buying some inventory.
Looking to build a new custom food truck? Check out this link for more details!
Looking for financing to start or grow an existing food truck? JSL Financial has you covered.
To dig your teeth into what FoodTruckr has to offer, make sure to like us on Facebook and follow us on Twitter, and also make sure to check out more content that we bring to the table.
There is no ads to display, Please add some